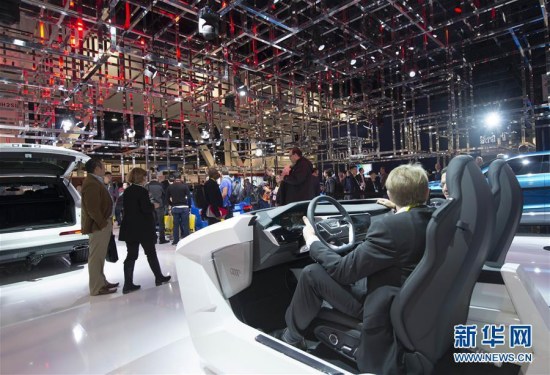 Attendees try out a racing simulator at Hisense's booth during the Consumer Electronic Show (CES) in Las Vegas, the United States, Jan. 7, 2016. (Photo: Xinhua/Yang Lei)
Consumer Electronics Show (CES) 2016 wrapped up in this western U.S. city on Saturday, with drones being one of the biggest hits.
More than 3,800 exhibitors unveiled their latest technologies at the high-profile show, and more than 170,000 industry professionals, including more than 50,000 from outside the United States, were drawn to the event.
The four-day expo was a vivid reflection of the trends in such sectors as robotics, virtual reality, unmanned systems, automatic technology and wearables.
Among the most eye-catching exhibitors were 27 drone manufacturers. As industry leaders, Chinese drone manufacturers were a big part of this year's show.
Driverless cars also drove into the spotlight, as the future of transportation is expected to feature connectivity between cars and things related.
Meanwhile, the dominating influence of connected devices were felt everywhere at CES 2016.
"Much like our younger generations who have never known life without the Internet, the next generation will have no concept of a world before IoT (Internet of Things)," said Gary Shapiro, president and CEO of the Consumer Technology Association (CTA), which owns and produces CES.
"It was awe-inspiring to see traditional and non-traditional tech industries meet to brainstorm, partner and collaborate on ways to do business and address global issues," he said in a statement.
According to the CTA, formerly the Consumer Electronics Association (CEA), the exhibition space of CES 2016 totaled 229,471 square meters, the largest in the show's 49-year-old history.