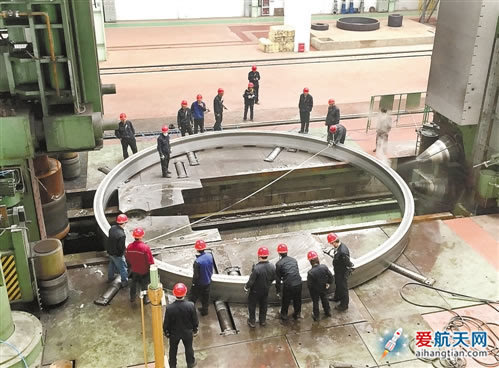 A part for the Long March 9 rocket was successfully developed in April 2015. (File photo)
China has developed the manufacturing techniques for a key part to be used on its super-heavy rocket that will fulfill the nation's manned missions to the moon.
The China Academy of Launch Vehicle Technology, working with other Chinese institutes, has developed a super-large interstage ring to be used to connect stages of the rocket, tentatively called the Long March 9.
The development was announced in a news release by China Aerospace Science and Technology Corp, the country's major space contractor.
The release said an interstage ring is a key component in a multistage rocket, and that those used on China's current rockets were made in sections before being assembled.
In contrast, the ring on the Long March 9 will be made through a casting method that produces it in one piece.
The China Academy of Launch Vehicle Technology has begun preliminary research on the Long March 9. The work has been approved by the State Administration of Science, Technology and Industry for National Defense, which is in charge of the nation's space programs.
According to sources at the academy, it plans to take up to five years to design and develop a liquid oxygen/kerosene engine with 460 metric tons of thrust and a oxygen/liquid hydrogen engine with 220 tons of thrust.
The rocket will have a launch weight of 3,000 tons and is scheduled to make its maiden flight around 2030, the sources said, adding that it will play a key role in helping to land astronauts on the moon.

An artist's illustration of the Long March 9 rocket (L) in comparison with the Long March 3B rocket. (File photo)
The Long March 9's technical specifications have still to be disclosed.
But Li Tongyu, head of aerospace products at the academy, said its diameter and height will be much greater than those of the Long March 5, which is undergoing final tests and will make its first flight soon. The Long March 9's thrust will also be much stronger, Li said.
"Our current launch vehicles, including the Long March 5, will be able to undertake the country's space activities planned for the next 10 years, but they will not have the capacity to carry out the nation's long-term space programs," according to Li.
Li Jinghong, deputy chief designer of the Long March 3A at the academy, cited technical estimates stating that the Long March 5 will require four launches before fulfilling a manned mission to the moon, while the Long March 9 will need only one.
The senior engineer also said that the Long March 9 will not be used solely for lunar missions, hinting that it will be required for other deep-space exploration projects.
Tian Yulong, secretary-general of the China National Space Administration, said it has started preliminary research on a Mars exploration program.