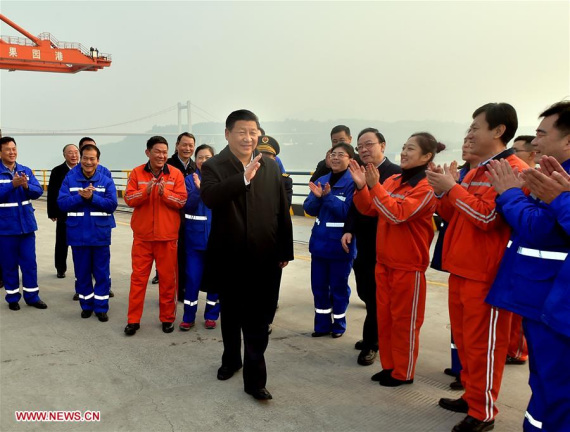 Chinese President Xi Jinping (C) greets workers during his visit to Guoyuan Port in southwest China's Chongqing Municipality, Jan. 4, 2016. Xi made an inspection tour in Chongqing from Jan. 4 to 6. (Photo: Xinhua/Li Tao)
Chinese President Xi Jinping has urged Chongqing, the start point of a transcontinental railway to Europe, to build itself into an international logistics hub in the hinterlands and a leading inland open economy.
Xi made the remarks during his first inspection tour of 2016 in southwest China's Chongqing Municipality from Monday to Wednesday.
At Guoyuan Port, a modern transportation hub still under construction, Xi said the Belt and Road Initiative has provided a bigger platform for Chongqing to "go global" while development of the Yangtze River Economic Belt will help Chongqing better integrate with central and eastern regions.
Xi also visited the Chongqing branch of BOE, where he praised the company's superior technology and branding and urged it to step up research and development.
Stressing coordinated urban-rural development, the president said Chongqing has faced an arduous task in this matter as the city covers a large area crisscrossed by rivers and mountains, urban and rural areas, which are unbalanced in development.
He called for simultaneous development of modern industrialization, computers, urbanization and agricultural modernization to integrate urban-rural development.
Xi also urged Chongqing to protect the Three Gorges Reservoir and the Yangtze River that runs through the city, saying these are crucial to the long-term development of Chongqing as well as the whole nation.
The city should better protect the environment in the upper reaches of the Yangtze, Xi said.
Stressing the need for all people to share the fruits of the country's reform and development, Xi urged "precision" in poverty relief, with measures tailored to different local situations and groups.
He called on governments not only to hold accountable those responsible for public safety accidents, but also to draw out the common problems hiding behind the accidents.
"Government efforts to maintain public safety and stability are linked to the happiness of thousands of Chinese households... If accidents happen or risks are detected in one place, the whole nation should draw lessons from it," said Xi.
Xi expressed appreciation for the social and economic achievements made by Chongqing in recent years.
Xi said he hoped the municipality will play a pivotal role in the strategy to develop the nation's western parts, in addition to integrating its growth into the Belt and Road Initiative and the construction of the economic belt along the Yangtze River.
In addition, Xi urged officials to work in earnest, have courage to tell the truth and never abuse power in exchange for personal gains.
Leading cadres at all levels constitute the backbone of the Communist Party of China's (CPC) governance force and should take the lead in implementing the "three stricts and three earnests" requirement, the president said.
The "three stricts and three earnests" is a series of requirements for officials to improve their lifestyles and work, urging them to be strict in morals, use of power and self-discipline, as well as honest in their work and behavior.
"Ideals and belief should not be regarded as slogans that officials just pay lip service to...Instead, they should be converted into strength that encourages officials to take action," Xi said.
Rigid implementation of discipline and rules not only requires a set of thorough, effective regulations, but also a process of obeying them hundred percent, he said.
The right exercise of power can be achieved through acting by law, Xi said, urging officials to always bear in mind the principle of acting in accordance with the law and never abuse power in exchange for personal gains.
The year of 2016 is a vital period for deepening reforms, the president said, calling on local authorities in Chongqing to fulfil reform tasks assigned by the central authority, as well as explore innovation.
"The priority, path, order and methods of reforms should be worked out to make sure the reforms precisely satisfy the demand of local development as well as people's expectation," Xi added.
NEW CONCEPTS FOR ECONOMIC DEVELOPMENT
Xi emphasized the new concept of innovation, coordination, green development, opening up and sharing in the process of building a "moderately prosperous society in all respects" by 2020.
Xi hailed these new concepts as a solution to faltering global recovery and a response to China's economy, which has entered a "new normal" state featuring slower growth.
Xi said the concept must be carried out firmly and swift efforts should be made to adjust the thinking and practice which was not in line with it.
He stressed the five parts of the new concept should be implemented as a whole since they were inseparable in nature.
Though factors hampering economic development lie in both the demand side and the supply side, the supply side is principal, said Xi, urging more work to advance supply-side structural reform.
Supply-side reform is the latest buzzword among Chinese leaders and economists as the country moves to address issues like excess capacity, housing overhang, and unprofitable "zombie" state-owned enterprises.
Xi demanded more efforts to phase out excess capacity and restructure industries, in addition to lowering the companies' costs and developing emerging industries as well as service sectors.
The president said the supply system should be improved to cater for consumers better.