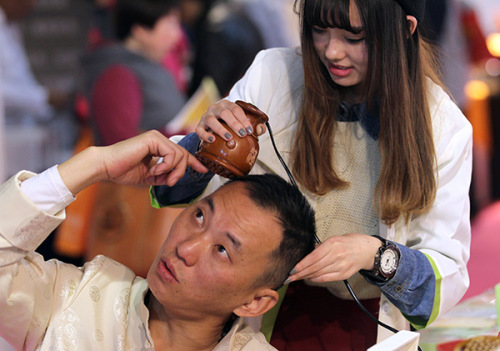 A male customer learns how to use skin care products at an industry expo in Beijing. (Photo/China Daily)
At the luxury Truefitt & Hill gentlemen barbershop and grooming salon located in the Yintai Centre in Beijing's financial district of Guomao, a Chinese barber with a pencil-style moustache patiently waits for local businessmen to finish work and sit in his chair.
The Beijing franchise, part of the world's oldest gentlemen barbershop brand, opened last year in the Chinese capital with a focus on the barber's chair and facial care.
The British retro-looking barbershop offers a wide variety of grooming services specifically designed for men, including manicure, skin nourishing and anti-hair loss treatments.
Nonetheless, the most sought-after service is the traditional hot towel wet shave with a face massage available for 300 yuan ($47).
"Chinese men are increasingly interested in looking good", explained Zhu Liya, general manager of the Truefitt & Hill Beijing branch. "More and more men are now spending money for personal grooming services".
Although the metrosexual phenomenon, which implies men spending heavily on grooming products, is still stronger in countries like South Korea and Japan, the interest among Chinese men in personal care services has been growing rapidly.
Facial skin care is the men's grooming category that is experiencing the most dynamic growth in China, with beauty products for men quickly rising in popularity.
"China is becoming the world's largest market for men's skin care products", said Neil Wang, global partner and president at consulting firm Frost and Sullivan China. "The market size is over $1 billion, followed by South Korea with total sales value of about $0.7 billion".
The size of the male facial skin care market in China is projected to reach 11.5 billion yuan ($1.85 billion) by 2020 from 7.3 billion yuan ($1.14 billion) in 2014, according to market research firm Mintel Group Ltd.
"More than 80 percent of the Chinese men hold an opinion that skin care is important," said Wang from Frost and Sullivan. "They are willing to spend about 25 minutes every day on skin care products on average".