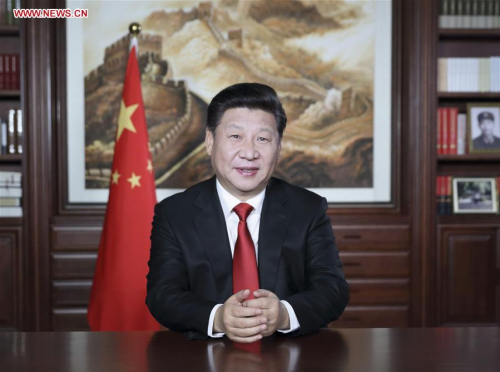 Chinese President Xi Jinping delivers his New Year speech via state broadcasters in Beijing, capital of China. President Xi Jinping looked forward to 2016 in the speech that called for confidence and hardwork for a good beginning in the home stretch of building a "well-off society in an all-round way." (Photo: Xinhua/Lan Hongguang)
President Xi Jinping highlighted poverty reduction and China's international role in his New Year speech Thursday.
In an address transmitted live by state broadcasters, Xi called for confidence and hardwork for a good beginning in the home stretch of building a "moderately prosperous society in all respects."
Xi said that a meeting of the Communist Party of China (CPC) in late October set out a promising and encouraging blueprint for development over the next five years.
Xi noted that lifting tens of millions of rural people out of poverty was his top concern, and called for joint efforts to achieve this goal.
"We should care for all people facing difficulties, making them feel warm from the bottom of their hearts," Xi said.
It is the third New Year speech Xi has given since 2013.
PAINS AND GAINS
Xi extended his New Year wishes to Chinese people of all ethnic groups, compatriots in Hong Kong and Macao, compatriots in Taiwan and overseas Chinese, as well as friends from other countries and regions.
"In 2015, Chinese people gave a lot, and we received a lot too," Xi said, citing the fact that the country's economic growth continues to be among the fastest in the world, reforms are in full swing and there has been deepened judicial reform.
The "three stricts and three earnests" campaign and anti-corruption fight have also been improving the country's political environment.
Xi recalled the large-scale commemoration for the 70th anniversary of victory in the Chinese People's War of Resistance Against Japanese Aggression and in the World Anti-Fascist War. During the event, Xi announced China will cut troops by 300,000.
"Our commemorative activities and the grand military parade showcased the truth that justice will prevail, peace will prevail and the people will prevail," Xi said.