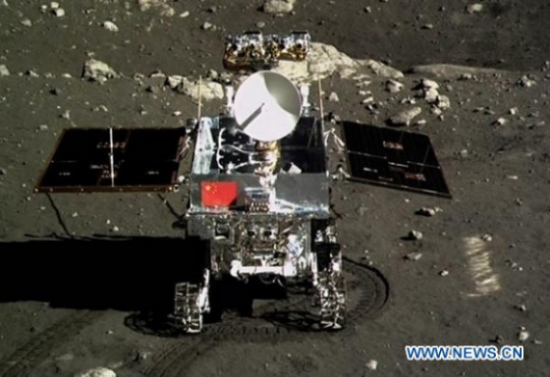 Screen shows the photo of the Yutu moon rover taken by the camera on the Chang'e-3 moon lander during the mutual-photograph process, at the Beijing Aerospace Control Center in Beijing. (Xinhua file photo)
The Chinese moon rover Yutu, or Jade Rabbit, has identified a new type of moon rock, according to a study published Tuesday in Nature Communications.
The Yutu rover had poked around a region that's been reshaped by volcanic activity relatively recently. After analyzing the data from the Yutu rover, a group of Chinese and American scientists say in the paper that this region's composition differs from other mare sample-return sites and is a new type of mare basalt not previously sampled.
According to the Washington Post, until now, basalts sampled from the moon all had either very low or very high titanium content. By examining the comparatively young rocks uncovered by an impact crater, Yutu found basalts with intermediate levels of titanium and high iron levels.
"The variable titanium distribution on the lunar surface suggests that the Moon's interior was not homogenized," Washington University's Bradley L. Jolliff, who collaborated with Chinese scientists to analyze the rover's data, said in a statement.
The study is expected to throw new light on the origins of Earth's nearest neighbor. In addition to showing the unexpected diversity of the moon, the results could help scientists do a better job of studying its surface from orbiters.