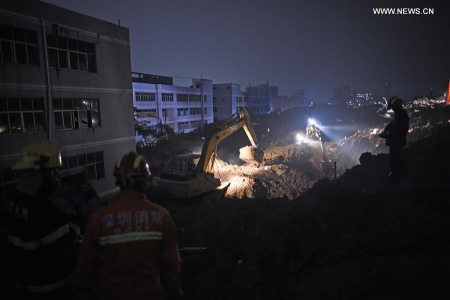 Rescuers work at the landslide site of an industrial park in Shenzhen, south China's Guangdong Province, Dec. 20, 2015. (Xinhua/Mao Siqian)
A total of 91 people remain missing as of early Monday morning, including 59 males and 32 females, after a landslide buried 33 buildings in an industrial park in Shenzhen City, south China's Guangdong Province on Sunday, according to local authorities.
An initial investigation shows that the 33 buildings have been buried or damaged to various degrees - 14 factory buildings, two office buildings, one canteen, three dormitories and 13 low-rise buildings, said Liu Qingsheng, deputy mayor of Shenzhen, at a press conference on Monday.
So far, 151 construction vehicles and a large group of rescuers are still battling at the site where the landslide occurred.
Experts at the site said it was unlikely there would be more landslides.
PetroChina, China's top oil and gas producer, owned the West-to-East natural gas pipeline that exploded as the landslide hit the area. They announced that the 400-meter-long ruptured pipe has been emptied. A temporary pipe will be built on Monday morning.