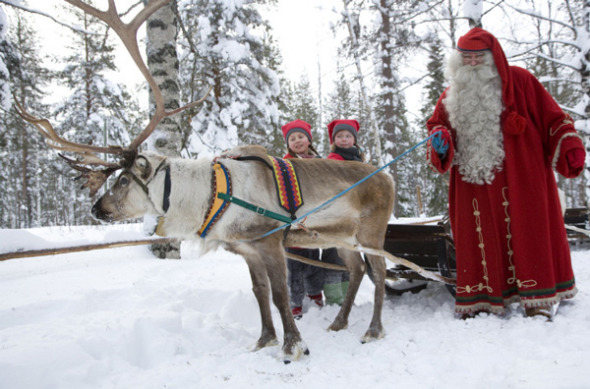 Asian tourists flock to the home of Santa Claus. (Photo/CNTV)
For Lapland, in Northern Finland, this holiday season is crucial. The number of Russian visitors to the home of Santa Claus has been declining in recent years, so now the tourist industry is turning its attention to Asia in the hope of attracting new business over the holiday season.
It's a winter wonderland in the Santa Claus Village, about eight kilometres north of Rovaniemi, the capital of Lapland in Northern Finland.
More than 300,000 people, from as far and wide as Australia, China, France, and Ireland, visit the village every year to enjoy the snow and get into the festive spirit.
That's good news for Rovaniemi, a city geared towards winter tourism. This season counts for up to 60 percent of total annual visitors.
In recent years, an expanding Asian middle class - buoyed by increased disposable income and relaxed travel restrictions - have been packing their bags, making Europe one of their top destinations.
The Association of British Travel Agents represents agents and tour operators that sell 32 million British pounds' worth of holidays and other travel arrangements each year. Spokesperson Sean Tipton says China is a growth market for destinations like Finland.
"If you look at the number of holidays that Europeans take, we've pretty much hit saturation point. We have a limited number of people living in Europe, most of us get a lot of leave, so there's very limited scope for growth in that area. So the really big growth market is definitely Asia, but in particular the Chinese market. Japan has always been pretty large, but China, the scope there is absolutely immense," Tipton said.
In Rovaniemi, the sun doesn't rise till around 11am at this time of year, but that's not deterring scores of visitors from touching down at the city's nearby snow-covered airport.
Around 140 charter flights visit the northerly Finnish city during the festive season; five scheduled flights touch down each day.
The World Travel and Tourism Council expects 2015 to show 3.5 percent growth in the global travel and tourism sector. The city is counting on getting a bigger slice of that.