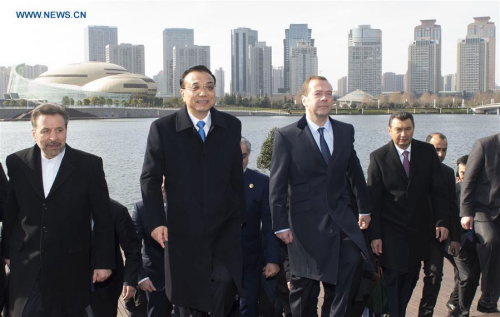 Chinese Premier Li Keqiang (2nd L, front) and other participants of the 14th prime ministers' meeting of the Shanghai Cooperation Organization (SCO) visit Zhengdong New District in Zhengzhou, central China's Henan Province, Dec. 15, 2015. (Xinhua/Xie Huanchi)
Chinese Premier Li Keqiang on Tuesday called for more cooperation with member and observer states of the Shanghai Cooperation Organization (SCO) on urbanization.[Special coverage]
Li's call came as he and foreign leaders of SCO member and observer states toured the Zhengdong New District of Zhengzhou, where they gathered for an SCO prime ministers' meeting.
Capital of landlocked Henan Province in central China, Zhengzhou is one of China's most pivotal railroad junctions, and second most populous city in central China.
Zhengdong, which used to be a rural area in eastern Zhengzhou, has become a new commercial, financial and residential quarter to more than one million people and 30,000 enterprises, Li told foreign leaders.
Calling urbanization "the biggest domestic demand in China," Li said the central and western part of China enjoy huge potential for development.
He said China will promote a people-centered urbanization and expand domestic demand through reform and innovation, so as to inject impetus into economic growth and provide opportunities for cooperation with other countries.
China is willing to explore cooperation with SCO member and observer states on promoting new urbanization especially in central and western China, Li said.
Hailing China's remarkable economic and social achievement, the foreign leaders said China's new urbanization is far-sighted, promising and full of opportunities.
They said they hoped to link their own needs with China's new urbanization to make progress in their mutually beneficial cooperation with central and western China.
Founded in 2001, the SCO consists of China, Russia, Kazakhstan, Kyrgyzstan, Tajikistan and Uzbekistan. It has Afghanistan, Belarus, India, Iran, Mongolia and Pakistan as observers.