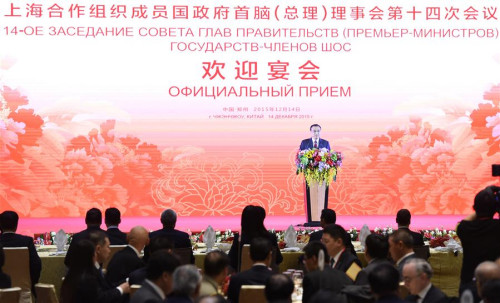 Chinese Premier Li Keqiang addresses the welcome banquet for foreign leaders attending the 14th Shanghai Cooperation Organization (SCO) prime ministers' meeting, in Zhengzhou, capital of central China's Henan Province, Dec. 14, 2015. (Photo: Xinhua/Wang Ye)
China hopes the 14th Shanghai Cooperation Organization (SCO) prime ministers' meeting will promote international industrial cooperation, Premier Li Keqiang said on Monday.[Special coverage]
Li made the call when hosting a welcome banquet for foreign leaders attending the meeting, slated for Tuesday in Zhengzhou, the capital of central Henan Province.
Leaders from SCO member states Russia, Kazakhstan, Kyrgyzstan, Tajikistan and Uzbekistan and observer states Pakistan, Afghanistan and Mongolia were present at the banquet.
Hailing the SCO as a model of good neighborliness and win-win cooperation, Li said the organization has always adopted an approach of non-alliance, non-confrontation and non-targeting of third parties in regional and international affairs. This, he said, has contributed to the stability, peace and prosperity of the world.
"The gathering of leaders from SCO members, observers and international organizations shows the growing influence of the organization, and the deep friendship and favorable atmosphere between members and observers," Li said.
"Amid the fragile global economic recovery and downward pressure on many economies, China expects this meeting will help countries match their development strategies, deepen international industrial capacity cooperation and exchange views on regional and international issues of mutual concern," Li said.
It is apt that the meeting is held in Henan, Li said, as the province has played a key role in China's modernization as well as reform and opening up.
The province has conducted close economic and trade cooperation and people-to-people exchanges with SCO countries, he added.
China is willing to work with all sides to promote exchanges and communication within the framework of SCO to create opportunities for more mutually beneficial cooperation between China and SCO members and observers, the premier said.
Prior to the welcome banquet, Li and foreign leaders visited an exhibition on the outcome of cooperation between Henan Province and SCO member countries.
The SCO, founded in 2001, currently has six member states -- China, Russia, Kazakhstan, Tajikistan, Kyrgyzstan and Uzbekistan, with Afghanistan, India, Iran, Mongolia and Pakistan as observers and Belarus, Turkey and Sri Lanka as dialogue partners.