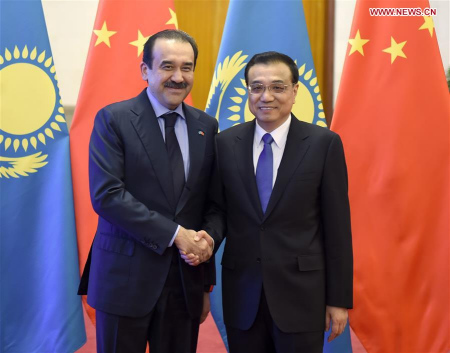 Chinese Premier Li Keqiang (R) holds talks with Kazakhstan's Prime Minister Karim Masimov in Beijing, capital of China, Dec. 14, 2015. (Photo: Xinhua/Zhang Duo)
Premier Li Keqiang held talks with his Kazakh counterpart Karim Massimov in Beijing on Monday, vowing to step up bilateral cooperation in industrial capacity, agricultural products, energy and regional connectivity.[Special coverage]
Li recalled his visit to Kazakhstan last year, during which he reached consensus with President Nazarbayev and Massimov on bilateral production capacity cooperation.
He said capacity cooperation had improved over the past year, citing a recently signed agreement on capacity and investment cooperation, and the establishment of a capacity cooperation fund.
Among the 52 bilateral "early-harvest projects," those related to automobile assembly and polypropylene had already been launched, while construction on a light railway transportation system in Astana will start by the year-end, and a dozen more projects in steel, smelting and cement are expected to kick off next year, Li said.
China Railway Group (CRG) will help build the 22.4 km light railway in Astana, which will have 18 stations and one depot, according to the bilateral deal signed in May this year.
Li said China hopes to explore a capacity cooperation model with Kazakhstan covering investment, production, sale and service.
The China-Kazakhstan capacity cooperation fund will be linked to the Silk Road Fund, he added.
Li urged both countries to cement trust and combine their development strategies.
Massimov hailed the progress of bilateral capacity cooperation as "remarkable," adding that his country highly values the opportunities that would result from China's Silk Road Economic Belt, "Made in China 2025" and "Internet Plus" strategies.
He called for stronger cooperation in such areas as gas exploration, nuclear power, infrastructure, finance, agriculture, aviation and environmental protection.
After their talks, Li and Massimov witnessed the signing of a series of cooperation deals ranging from production capacity, finance and energy to customs, quality control and tourism. The two governments also issued a joint communique.
The two sides will promote a steady development of bilateral trade, strengthen financial cooperation, support the construction of an international financial center in Astana, the joint communique said.
Other areas identified for enhanced cooperation include energy and coal exploitation, as well as the peaceful utilization of nuclear energy such as nuclear power, uranium exploitation, and the production and supply of nuclear fuel. China said it is willing to increase imports of uranium from Kazakhstan.
Logistics, customs, aviation transportation, agriculture, localities, and utilization and protection of trans-border rivers were also discussed.
In terms of technological research and development, institutions and companies will be encouraged to explore areas for cooperation, especially in agriculture, as bilateral agricultural investment and trade is also a key area for cooperation, according to the joint communique.
China is ready to support Kazakhstan to hold the World Expo in Astana in 2017 and share its experience of organization and post-event utilization of facilities.
The two sides will enhance technological, cultural, media, and youth exchanges, and a "Year of Tourism" in Kazakhstan will be held by China in 2017. The two sides will strengthen cooperation in areas including health care and the prevention and treatment of infectious diseases.
Moreover, international and regional affairs cooperation will be improved, as well as coordination with multilateral institutions such as the United Nations, the Shanghai Cooperation Organization and the Conference on Interaction and Confidence-Building Measures in Asia. All were lauded as being conductive to the stability and development of the region and the world, the joint communique said.
Massimov is in China for an official visit. He will attend the 14th prime ministers' meeting of the Shanghai Cooperation Organization, which opened on Monday in central China's Zhengzhou City.
He will also attend the second World Internet Conference in Wuzhen in east China's Zhejiang Province on Dec. 16-18.