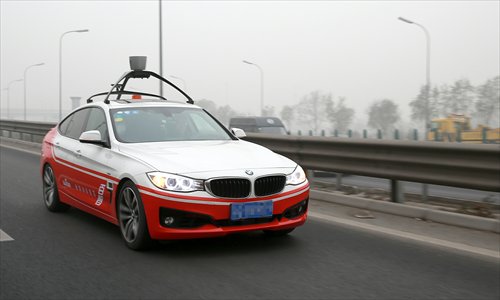 A Baidu autonomous car during a test drive in Beijing on Thursday (Photo: Courtesy of Baidu)
Leadership in China's mapping segment will provide an edge
Domestic search engine giant Baidu Inc on Thursday announced that its self-driving car has completed road tests, marking a milestone in the nation's autonomous driving effort.
The Baidu vehicle, a modified BMW 3 Series, is China's first car to have "demonstrated full autonomy under mixed road conditions," according to a press release Baidu sent to the Global Times Thursday.
The car is said to have made right, left and U-turns on a 30-kilometer test drive route beginning from the Haidian district of Beijing to a highway near the capital and looping back at a top speed of 100 kilometers per hour.
The autonomous capacities showcased by Baidu, which in 2014 joined with Germany-based premium car maker BMW to develop autonomous car technologies, are also being demonstrated by other companies including Google Inc that aim to offer self-driving cars.
"With its well-developed online mapping services, Baidu has an edge on its rivals, especially in the Chinese market," Feng Shiming, a senior industry analyst with Shanghai-based Menutor Consulting, told the Global Times Thursday.
China's mobile navigation market was led by Beijing-based AutoNavi Holdings with a 39 percent share in the third quarter, closely followed by Baidu whose mapping service took up 37.8 percent of the market. Google's digital mapping service ranked sixth with 1.6 percent, Beijing-based market consultancy BigData-Research said in November.
Analysts said that self-driving autos won't be on the road right away, but they'll get there faster than it took for new-energy vehicles (NEVs) to become popular.
"One reason for the slow development of NEVs is inadequate infrastructure, such as charging stations. Self-driving autos do not have such barriers," said Feng.
According to Feng's optimistic estimates, driverless technology will be in the mainstream by 2020, as more and more companies enter the market.
However, there are still barriers to the development of self-driving technology, and the lack of a legislative framework is a major issue, said Feng.
"For instance, there should be specific regulations on the speed of self-driving vehicles near traffic lights. Self-driving cars, which can automatically brake at very high speeds, can easily be rear-ended," he said.
Fu Liang, a Beijing-based IT expert, told the Global Times Thursday that Baidu's move shows that China's leading IT firms are active in areas expected to be the world's next big things.
"The risks include obtaining licenses from different governments and accessing vehicles to host the driverless system," Fu said, noting that a driverless vehicle is an integrated product of both hardware and software.
"For example, to install the system in other cars, Baidu needs to do a lot of work with partner automakers," Fu said.
Volkswagen AG's Luxury brand Audi is calling its driverless technology "Audi piloted driving." In 2012, the company became the first vehicle producer in the world to obtain a license for self-driving cars when it won approval in the U.S. state of Nevada.
During the International Consumer Electronics Show in Shanghai in May, Audi showcased its A7 piloted driving concept car with the driverless car running on Shanghai streets.
Chinese-owned Volvo Car Group unveiled its XC 90 on August 27, 2014 in Stockholm, capital of Sweden. The sport utility vehicle model features a number of automated systems including an automated braking system that harnesses a sensor system to keep the car from hitting other cars as well as bicycles and pedestrians.
South Korea's Samsung Electronics is one of the latest to venture into the self-driving auto industry. The company on Wednesday unveiled a plan to develop components for such vehicles, AFP reported on Thursday.
Fu said as the driverless car is still a pilot concept globally, expanding to overseas markets is still something for the future.
"Can Baidu get the required license like Google in the U.S.? That means localization issues, hiring local teams, understanding local laws and regulations and so on," Fu said.