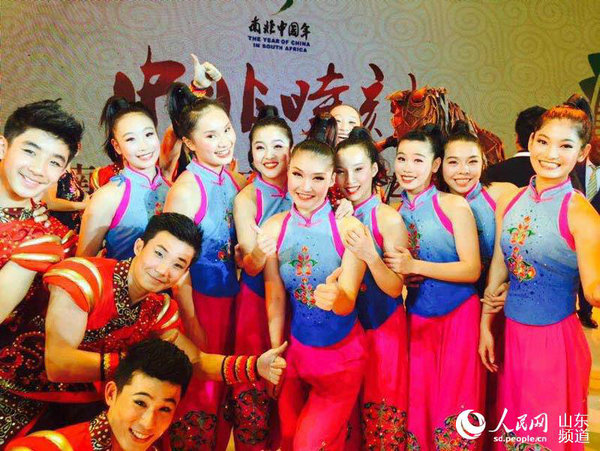 The acrobats of Shandong Acrobatic Troupe pose for a photo after their performance in South Africa. (Photo/sd.people.cn)
To highlight the closing ceremony of the "Year of China" in South Africa, eight ladies from Shandong Acrobatic Troupe gave a Chinese traditional drum dance acrobatic performance in Johannesburg on Dec 4.
Yao Jianguo, director-general of the Troupe, said that drum is a popular musical instrument in South Africa and is also engaged in the performing arts of Chinese acrobatics. He believed that the acrobatic performance of drums showed the harmony in diversity between Chinese and South African culture.
Yao further noted that their drum dance put an emphasis on Chinese culture by adding drum Chinese-style beats and Chinese color patterns to the costumes to present an element of Yimeng of Shandong Province.
The acrobats practiced hundreds of times every day leading up to the performance, leaving a great impression on South African people.
Acrobatics have a 2000-year history in China. Shandong Acrobatic Troupe endeavors to bring their best performance of Chinese traditional acrobatics to the world.