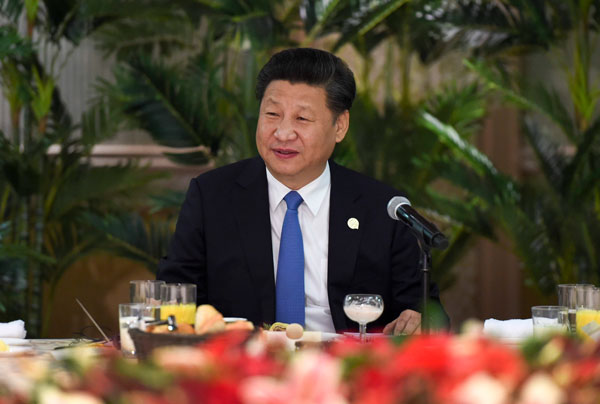 Chinese President Xi Jinping holds a group meeting with leaders of 13 African countries, in Johannesburg, South Africa, Dec 4, 2015. (Photo/Xinhua)
President Xi Jinping met at least 50 world leaders and presented China's solutions in countering global warming and modernizing a less-developed continent - all in a week-long visit to three countries that ended on Sunday. [Special coverage]
With his journey to France, Zimbabwe and South Africa, Xi capped his overseas diplomacy for 2015, imparting "positive energy" to the construction of a global governance system, Minister of Foreign Affairs Wang Yi said.
Wang, a member of Xi's delegation throughout the trip, said the president had spoken from a sense of justice for developing countries at the Paris climate change conference, pushing for a pact that is fair, reasonable and effective.
At the opening of the unprecedented Paris gathering last Monday, Xi warned that the talks should reject the narrow-minded mentality of zero-sum game. He urged all countries, particularly the developed ones, to assume more shared responsibilities for win-win results.
"It is imperative to respect differences among countries, especially developing ones, in domestic policies, capacity building and economic structure," the Chinese leader said.
The legitimate needs of developing countries to reduce poverty and improve their peoples' living standards should not be denied while addressing the issue of climate change, he told an audience which included at least 150 heads of state and government.
"Developed countries should honor their commitment, mobilizing $100 billion each year before 2020, and provide stronger financial support to developing countries afterwards.
"It is also important that climate-friendly technologies should be transferred to developing countries," Xi said.