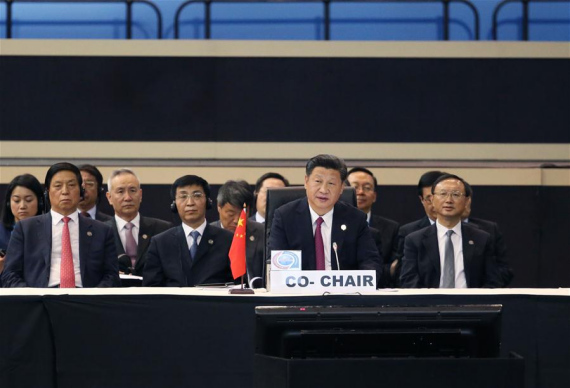 Chinese President Xi Jinping (front) attends the plenary meeting of the Johannesburg Summit of the Forum on China-Africa Cooperation in Johannesburg, South Africa, Dec. 5, 2015. (Photo: Xinhua/Yao Dawei)
Chinese President Xi Jinping announced in Johannesburg on Saturday that he and African leaders have reached unanimous consensus on lifting China-Africa relations to a comprehensive strategic cooperative partnership. [Special coverage]
Xi, who proposed the upgrade Friday in a keynote speech at the opening ceremony of the second summit of the Forum on China-Africa Cooperation (FOCAC), made the announcement before the landmark two-day gathering comes to an end.
The summit approved the Johannesburg Declaration of FOCAC and the FOCAC-Johannesburg action plans (2016-2018), Xi said, adding that the two documents represent an all-round planning for future development of China-Africa relations and pragmatic cooperation in various areas.
The two documents, Xi said, would also inject fresh impetus to the comprehensive development of China-Africa ties, and provide a strong spiritual guide and political guarantee for the two sides to conduct mutually beneficial cooperation in more areas and on higher levels.
In the speech, the Chinese president reaffirmed the importance of the five major pillars he highlighted a day earlier that China and African countries should focus on their joint efforts to foster the comprehensive strategic cooperative partnership.
The five pillars include consolidating political mutual trust, striving for win-win economic cooperation, enhancing exchanges and learning from each other in civilization, helping each other in security, and cementing unity and coordination on international affairs.
To realize the upgrade of relations, Xi said leaders at the meeting have been determined to push forward the all-round development of China-Africa relations by focusing on implementing 10 major cooperation plans covering the areas of industrialization, agricultural modernization, infrastructure, financial services, green development, trade and investment facilitation, poverty reduction, public health, people-to-people exchanges, and security.
At the end of his speech, Xi said, for China-Africa relations, the brotherhood and friendship featuring equality, mutual trust and supporting each other, the principle of win-win cooperation for common development, the spirit of coordination featuring mutual understanding and common progress, and the unshakable will of standing side by side in all weathers will not change in spite of future changes in international and economic situations, social development and the emergence of any threats and challenges.
Themed "Africa-China Progressing Together: Win-Win Cooperation for Common Development," the summit is the second of its kind under the 15-year-old framework of the FOCAC, which groups China, 50 African countries that have established diplomatic ties with China, and the Commission of the African Union.