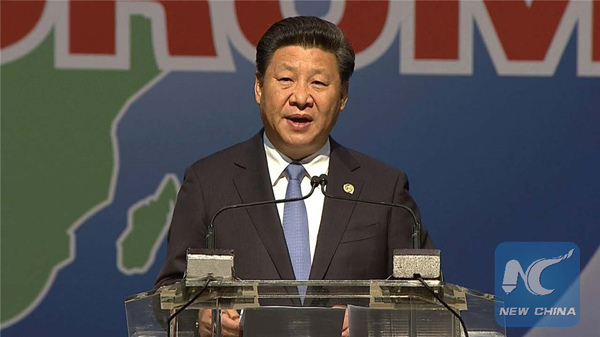 Chinese President Xi Jinpingdelivers a keynote speech at the opening ceremony of the Johannesburg Summit of the Forum on China-Africa Cooperation (FOCAC) on Dec. 4, 2015. (Xinhua)
A new chapter has been opened for China-Africa relations, as Chinese President Xi Jinping announced in Johannesburg Friday visionary action plans and policy principles to set the tone for future China-Africa cooperation. [Special coverage]
Xi, in a keynote speech at the opening ceremony of a landmark summit of the Forum on China-Africa Cooperation (FOCAC), proposed that his country and Africa lift their relations to a comprehensive strategic cooperative partnership and join hands to usher in a new era of win-win cooperation and common development.
In order to turn the proposal into tangible results, Xi called for concerted efforts to strengthen "five major pillars" and announced 10 major plans to boost bilateral cooperation.
The address, punctuated by rounds of applause, resonated among officials and observers, who say that it will lead the friendship and cooperation between the world's largest developing country and the continent that is home to the largest number of developing countries to an even brighter future.
FIVE PILLARS & TEN PLANS
Describing China and Africa as good friends, good partners and good brothers with a common future, Xi said the two sides have always been a community of common destiny, with similar historical experiences having generated a profound friendship between their people.
"In conducting China's relations with Africa, we adhere to the principles of sincerity, practical results, affinity and good faith and uphold the values of friendship, justice and shared interests," Xi told the audience.
He suggested that China and African countries focus on reinforcing "five major pillars" in their joint efforts to foster the comprehensive strategic cooperative partnership.
In politics, the two sides should remain committed to political equality and mutual trust, said Xi, stressing that China strongly believes that Africa belongs to the African people and African affairs should be handled by the African people themselves.
In the economic realm, China and Africa should remain committed to win-win cooperation, Xi said, suggesting the two sides focus on cooperation in production capacity, construction of regional transport networks and industrialization.
Meanwhile, China and Africa, which both boast a long and splendid civilization, should learn from each other in culture, and particularly focus on boosting people-to-people exchanges between the youths, women, think tanks, media outlets and universities, Xi said.
Also, the two sides need to close ranks and help each other in security, said the president, stressing that Beijing supports Africa resolving African problems in African ways and stands ready to help Africa enhance its capacity in safeguarding peace and security.
In addition, Xi called upon the two sides to cement unity and coordination on international affairs and jointly defend their common interests, and pledged that China will continue to support Africa in playing a bigger role on the world stage.
To realize the upgrade to relationship, Xi announced China will carry out 10 major plans in the next three years to boost its cooperation with Africa.
The big package covers the areas of industrialization, agricultural modernization, infrastructure, financial services, green development, trade and investment facilitation, poverty reduction and public welfare, public health, people-to-people exchanges, and peace and security.
To ensure the implementation of the initiatives, China will offer 60 billion U.S. dollars of funding support, Xi said, specifying that the sum includes 5 billion dollars of grant and interest-free loans, 35 billion dollars of preferential loans and export credit, 5 billion dollars of additional capital for the China-Africa Development Fund and the Special Loan for the Development of African SMEs each, and a China-Africa production capacity cooperation fund with the initial capital of 10 billion dollars.
As regards the lack of skilled personnel, Xi said China will establish a number of regional vocational education centers and several capacity-building colleges for Africa, train 200,000 technicians for African countries, and provide the continent with 40,000 training opportunities in China.
On poverty reduction, Xi said China will launch 200 "Happy Life" projects and special programs focusing on women and children, and cancel outstanding debts in the form of bilateral governmental zero-interest loans borrowed by the relevant least developed African countries that mature at the end of 2015.
To help Africa accelerate agricultural modernization, China will carry out agricultural development projects in 100 African villages to raise rural living standards, send 30 teams of agricultural experts and establish a "10+10" cooperation mechanism between Chinese and African agricultural research institutes, he added.
On security cooperation, Xi announced that China will provide a total of 60 million dollars in free aid to the African Union (AU) to support the building and operation of the African Standby Force and the African Capacity for the Immediate Response to Crisis.
ENTHUSIASTIC RESPONSES
Xi's address was warmly welcomed by other leaders at the Johannesburg summit of the 15-year-old FOCAC, which groups China, 50 African countries that have established diplomatic ties with China, and the Commission of the AU.
In their respective speeches at the opening ceremony, South African President Jacob Zuma, Zimbabwean President Robert Mugabe, who also holds the rotating AU chair, and AU Commission Chairwoman Nkosazana Dlamini-Zuma spoke highly of Africa-China relations and the raft of cooperation measures Xi announced, vowing to work with China to steer bilateral interaction into an even brighter future.
"We have been very impressed by the speech of President Xi, because it is a very concrete proposal and a road map for the cooperation between China and Africa," said Kadre Desire Ouedraogo, president of the Commission of the Economic Community of West Africa States.
With the 10 areas of cooperation listed in Xi's speech corresponding to the priority of Africa, "we believe that is a starting point of a very successful cooperation between China and Africa," he told Xinhua.
Tlohang Sekhamane, foreign minister of Lesotho, noted that Xi's speech covers almost all fields of China-Africa cooperation.
"From infrastructure building to offering technical training, from poverty reduction to cooperation in the security sector, the measures announced by Xi are badly needed by African countries," said Sekhamane.
"It is clear that China wants to be a partner looking for cooperation with Africa and it seeks opportunities of real win-win cooperation instead of looking for a situation of dominance," added the minister.
Adji Ayassor, minister of state in the Togolese Ministry of Economy, Finance and Development Planning, told Xinhua that the Chinese president's speech told "the truth about the cooperation between China and Africa."
Contrary to what some claim in the West, China "is not colonizing Africa," he said. "We believe that is the best way to develop Africa ... It is a real cooperation."
BUSY SCHEDULE
In addition to the opening ceremony, the Chinese president had a busy schedule the whole day, discussing development strategy with leaders of African countries, and joining leaders from across Africa at a business conference.
In the group meeting on Friday morning, Xi told 13 African leaders that strengthening solidarity between China and Africa and upgrading development cooperation serve the common interest of both sides.
He added that China and Africa are facing a historical opportunity, with both sides needing each other in development, and can complement each other in their endeavor for growth.
African leaders attending the meeting applauded the importance China attaches to the continent, saying that to achieve industrialization and agriculture modernization, African countries need closer cooperation with China.
Noting that the China-proposed "Belt and Road" initiative is important to Africa, they extended their welcome for China's participation in railways, roads, ports building projects across the continent, as well as the country's help for Africa in production capacity building.
Later on Friday, Xi joined leaders from across Africa at a business conference and put forth a five-pronged proposal on further deepening win-win cooperation between the world's second-largest economy and the fast developing continent.
Xi told hundreds of Chinese and African business dignitaries that China sincerely hopes to share its industrialization experiences with African countries and help the continent advance its own industrialization with financial, technological and talent support.
To that end, Xi suggested that China and African countries stick to equality-based and win-win cooperation, strike a right balance between principles and profits, and jointly build a community of common destiny.
Also, the two sides need to pursue green and sustainable development, and China will help its African partners deal with climate change, improve environment protection and train professionals in related areas, Xi said.
The Chinese president also suggested that China-Africa cooperation prioritize infrastructure construction, so as to bring tangible benefits to all people.
On the sidelines of the summit, Xi also met leaders of Namibia, Nigeria, Egypt, Somalia and Comoros on bilateral ties.
In addition to the meetings, Xi, together with African leaders, also attended the opening ceremony of the China-Africa Equipment Manufacturing Industry Exhibition and Exhibition on 15 Years of the FOCAC.
Accompanied by his wife Peng Liyuan, Xi concluded his schedule on Friday evening by attending the art performance at the closing ceremony of the Year of China in South Africa.