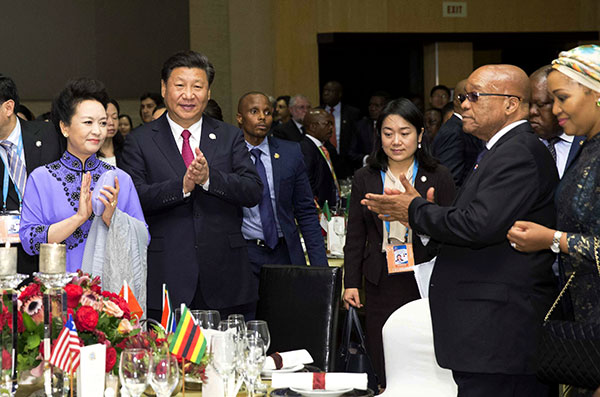 President Xi Jinping and his wife Peng Liyuan attend the welcoming banquet for the leaders participating in the second summit of the Forum on China-Africa Cooperation in Johannesburg on Thursday. HUANG JINGWEN/XINHUA
President Xi Jinping said on Thursday that China stands ready to work with Africa to tap the unique advantages of their partnership and to boost bilateral cooperation for the benefit of both peoples.
Chinese people are both familiar with and fond of Africa, Xi said at a welcoming banquet for the dozens of leaders participating in the second summit of the 15-year-old Forum on China-Africa Cooperation.
The continent is not only endowed with a long and splendid history, but is blessed with great prospects for dynamic development, said the president, who traveled to Africa on his first foreign trip after taking office in March 2013 and once called it "the continent of hope and promise."
Pointing out that similar historical experiences and a shared aspiration for common development have generated a natural affinity between the Chinese and the African people, Xi stressed that it is the shared responsibility of both sides to maintain and strengthen the time-honored friendship.
Both the Chinese and the African people are striving for their respective dreams, and the two sides, with their development strategies highly compatible, have both the need and the resources to expand cooperation for common development, Xi said.
China, he said, is ready to join hands with African countries to give full play to the unique advantages of political mutual trust and economic complementarity in the China-Africa relationship and further promote bilateral win-win cooperation.
He suggested that China and Africa make joint efforts to translate their friendly ties into fresh impetus for the pursuit of cooperation and development, and transform Africa's rich natural and human resources into greater strength for economic development and more benefits for the people.
South African President Jacob Zuma, who also addressed the gathering, said that Africa and China have a unique strategic partnership and that the FOCAC summit is set to lift bilateral relations to a higher level.