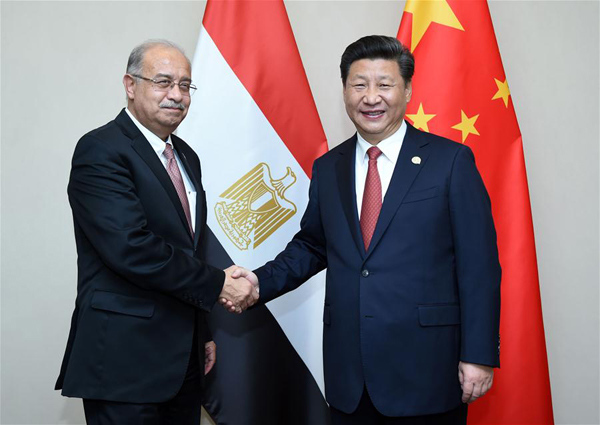 Chinese President Xi Jinping (R) meets with Egyptian Prime Minister Sherif Ismail in Johannesburg, South Africa, Dec. 4, 2015. (Xinhua/Zhang Duo)
Chinese President Xi Jinping called for accelerating cooperation in production capacity and security with Egypt in Johannesburg on Friday. [Special coverage]
Major production capacity projects in the fields of electricity, transportation and infrastructure construction should be sped up under the framework of the Belt and Road Initiative, Xi said during a meeting with Egyptian Prime Minister Sherif Ismail on the sidelines of the Johannesburg summit of the Forum on China-Africa Cooperation (FOCAC).
Xi also called upon the two sides to deepen security cooperation and enhance coordination in international and regional affairs, so as to safeguard the common interests of the two countries and the developing nations as a whole.
China will, as always, support the stability and development of Egypt, and is willing to work with Egypt to promote the China-Egypt comprehensive strategic partnership to higher stage, Xi said.
The Chinese president also urged the two countries to increase high-level visits to jointly blueprint future cooperation.
For his part, the Egyptian prime minister spoke highly of the speech Xi made at the opening ceremony of the FOCAC summit, adding that the speech would produce more fruitful China-Africa cooperation.
Xi stays in South Africa on Dec. 2-5 for the Johannesburg summit of the FOCAC and for his second state visit to the country.