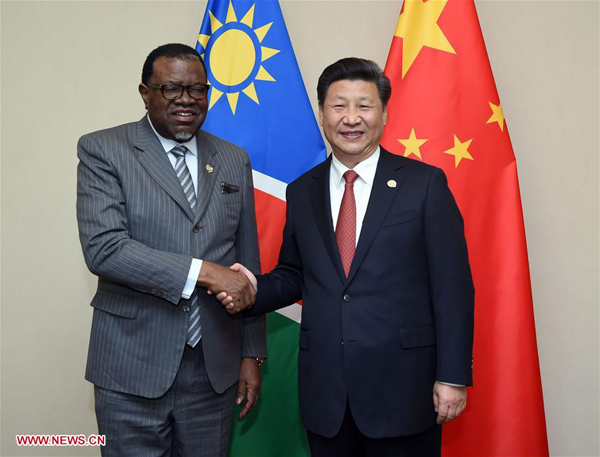 Chinese President Xi Jinping (R) meets with Namibian President Hage Geingob in Johannesburg, South Africa, Dec. 4, 2015. (Xinhua/Zhang Duo)
Chinese President Xi Jinping expressed willingness to deepen practical cooperation with Namibia in infrastructure improvement during a meeting with Namibian President Hage Geingob in Johannesburg on Friday. [Special coverage]
The Chinese government encourages enterprises to actively take part in the construction and operation of transport facilities, ports and other infrastructure in the African country to promote its economic and social development, Xi told Geingob on the sidelines of a China-Africa summit.
Namibia is an important partner of China in the African continent, Xi said, stressing China stands ready to work with Namibia to translate their traditional friendship into new impetus of cooperation and development.
He called on the two sides to further political mutual trust and deepen all-round exchanges.
China and Namibia should expand cooperation in fields such as culture, education, tourism, youth and media exchanges, in order to strengthen the public support for bilateral ties, Xi noted.
The Chinese president also called for more coordination between the two countries in international affairs so as to safeguard the common interests of developing countries.
Hailing the time-honored Namibia-China friendship, Geingob expressed his appreciation for China's valuable support in Namibia's national independence and development.
Under the new circumstances, Namibia is willing to push forward cooperation with China in areas such as infrastructure, agriculture and new-energy exploration, he said.
A two-day summit of the Forum on China-Africa Cooperation (FOCAC) was kicked off here earlier in the day, grouping leaders and representatives from China, 50 African countries and the Commission of the African Union to find a way for a stronger China-African relationship.