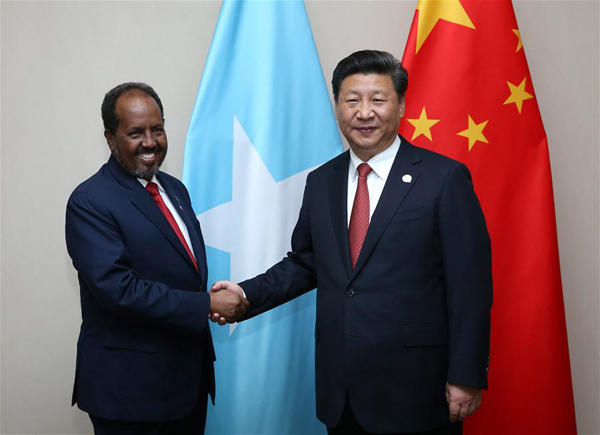 Chinese President Xi Jinping (R) meets with Somali President Hassan Sheikh Mohamoud in Johannesburg, South Africa, Dec. 4, 2015. (Xinhua/Pang Xinglei)
China firmly supports Somalia's efforts of national reconstruction and stands ready to increase its aid to the Eastern African country, Chinese President Xi Jinping said in Johannesburg on Friday. [Special coverage]
China will adhere to the friendly policy in conducting its relations with Somalia, Xi noted during a meeting with the Somali President Hassan Sheikh Mohamud on the sidelines of the Forum on China-Africa Cooperation (FOCAC) summit held in Johannesburg.
The Chinese president urged the two countries to take the fulfillment of the summit's consensus as an opportunity to deepen their cooperation in various areas, saying that China is willing to help the Somali people to realize lasting peace and national reconstruction.
Reaffirming China's firm support to the national reconciliation and peace process in Somalia, Xi said that China welcomes the Somalis in all fields and at all levels to visit China for exchange.
China will also support the Somali efforts of economic recovery and national reconstruction, said the Chinese president, vowing to increase China's aid to Somalia and encourage more Chinese enterprises to engage in mutually beneficial cooperation in the African country.
In the security sector, Xi noted that China will continue to help Somalia strengthen its national defense and security capability, and provide assistance to the African Union Mission in Somalia.
Stressing the long-term friendship between the two countries, Mohamud, for his part, thanked China for its support to the Somali national reconstruction and peace process, especially the re-opening of its embassy in Somalia last October.
Somalia is willing to deepen its cooperation with China, engage in cooperation under the Beijing-proposed Belt and Road Initiative, and actively fulfill the consensus made in the Johannesburg summit, the Somali president said.
The Johannesburg meeting, which opened Friday, is the second summit of the 15-year-old FOCAC.