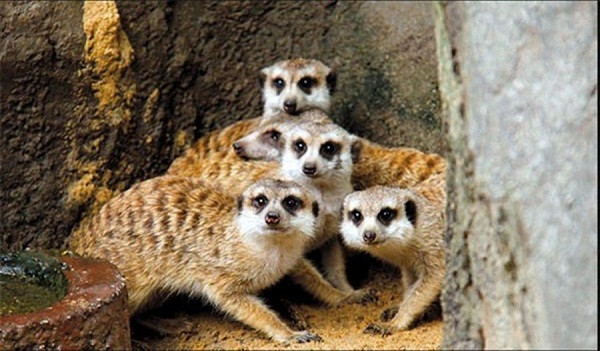 Meerkats pose as they greet visitors at Shanghai Zoo yesterday. (Ti Gong)
Shanghai zoo yesterday unveiled a new breed of animal as seven African meerkats greeted visitors for the first time, having been in quarantine since arriving early this month.
The meerkats, born in South Africa, are less than 2 years old and have been brought to Shanghai from other parks in China, the zoo operator said. The hope is that the small nimble animals can breed in the city.
The meerkats, four of them male, were shy when they first arrived at the zoo, said Pan Xiuwen, a zoo official.
They hid behind stones and always seemed on alert as they looked around at their new home, the little creatures are quite naughty, she said.
Meerkat is the prototype of Timon, a character in "The Lion King." It is small, nimble and clever, the zoo said.
Meerkats live in groups of three to 30. They are usually born in November and December and have a life span of 12 years at the most.
The animal becomes sexually mature at age one and an adult meerkat weighs less than one kilogram.
Meerkats live in the deserts of southern Africa, and animal keepers in the zoo paved sand on the ground to create an environment similar to their habitat.
They have also placed stones and created caves for the little creatures to rest. Geothermal heating facilities have been installed with water-proof wood pieces placed to prevent them from feeling the heat, the zoo said.
After about half a month in this closed environment, the meerkats have become acclimatized and are now used to their new home, Pan said, revealing that their favorite meal is eggs and yellow mealworms prepared by zoo keepers.