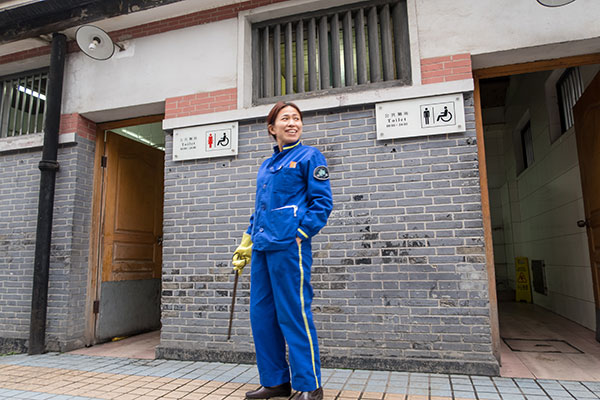 The oldest public toilet in Shanghai, in use for more than 70 years, will be demolished to make way for urban construction. Wang Gang / for China Daily
The China National Tourism Administration will work with the Bill & Melinda Gates Foundation to further the nation's "toilet revolution", it was announced on Thursday to mark World Toilet Day.
The foundation will support introducing advanced eco-friendly toilet technology in less-developed regions in China, especially in those areas lacking water, the administration said in a statement.
It will also fund institutions to conduct research and collect suggestions to improve public toilets in the country.
The administration launched a three-year campaign in January called the Toilet Revolution, which aims to build 33,000 restrooms nationwide by 2017 and renovate 24,000 others.
In another initiative to mark the day, China's taxi-hailing app Didi Chuxing said it would launch a toilet-finding service for drivers.
Didi drivers will be able to use their mobile phones to locate the nearest toilets based on their current location, and review other drivers' ratings of the toilets they have used.
According to a statement from Didi, about 79 percent of drivers polled said they found it difficult to find public toilets every day. Calculated across the Didi platform, at least 4 million drivers are affected by the problem.
From Nov 22, more than 150,000 toilets will open to Didi drivers in 50 major cities including Beijing, Shanghai, Guangzhou, Guangdong province and Hangzhou, Zhejiang province. Many companies have joined the campaign inviting drivers to use their toilets.
By the end of September, all provinces and regions in China had drafted their own three-year plans for the Toilet Revolution campaign. So far, the number of toilets for tourists being built or completed has reached 21,499.
Li Jinzao, head of the administration, said the poor condition of public toilets in China is one of the issues that causes the most complaints from both Chinese and foreign tourists.
"Toilets may be small but they reflect the level of civilization in a country," said Li during a World Toilet Day event in Beijing.
"We hope more companies will participate in the toilet revolution and that people will use public toilets in a civilized manner."
Donald Guadagni, 55, who teaches English at a college in Ningbo, Zhejiang province, said: "When public toilets are built, they should have at least one Western-style toilet installed as most Western tourists don't know how to use squat toilets, and older tourists cannot use squat toilets easily."