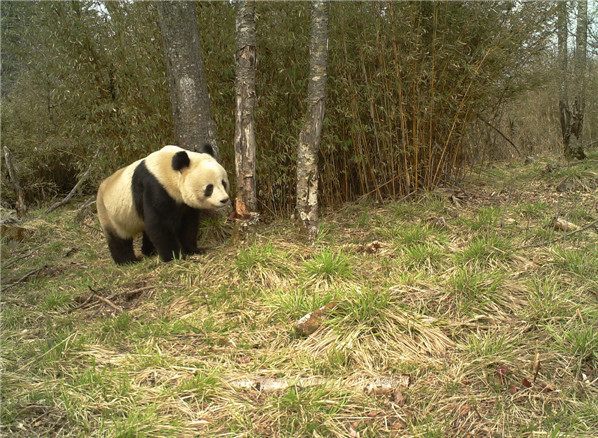 An infrared camera captures a wild giant panda roaming the woods of Shaanxi Zhouzhi Nature Reserve. (Photo provided to China Daily)
For the past 32 years, forest ranger Li Xifeng's daily routine is patrolling the deep woods of Heihe National Forest Park in Zhouzhi county, Shaanxi province, to protect the habitat of wild giant pandas and prevent forest fires.
But since the end of October, Li and his colleagues can monitor the situation from their office most of the time via newly installed wireless surveillance and infrared cameras.
They are part of the Giant Panda Habitat Monitoring and Restoration Demonstration Program in China's Western Mountainous Areas, co-started by World Wildlife Fund and computer hardware manufacturer Seagate Technology.
The program has chosen three representative habitats of wild giant pandas-Shaanxi Zhouzhi Nature Reserve and Heihe National Forest Park, Sichuan Xiaohegou Nature Reserve and Gansu Duo'er Nature Reserve. The wild pandas are only found in these three provinces.
With Seagate's financial and technical support, WWF aims to help researchers in these habitats to establish surveillance systems, gather and analyze data, detect potential threats and deal with them.
According to China's Fourth National Giant Panda Survey this year, supported by WWF, the estimated minimum population of wild giant pandas in the country is 1,864, with an increase of 16.8 percent over the past decade.
"To protect captive giant pandas, the focus is breeding. But for wild ones, it's about protecting their habitats and increasing their interactions among populations," says Li Yang, an official with the WWF's giant panda program.
"The giant panda's habitat is also home to species such as the golden snub-nosed monkey and red panda. We can protect these animals and the whole ecological system such as woods and freshwater via protection of the habitats. It will also benefit the human beings in the end," he says.
There are seven high-definition wireless surveillance cameras in essential places of the Heihe park to monitor the behavior of tourists. Rangers can control the cameras from their posts and watch real-time images transmitted through the network.
"The park is very large. The surveillance cameras can tell us where tourists are going and what they are doing. Then we will know how to tackle their interference in the habitat and educate them to protect the environment," Li says.
He says the surveillance can prevent the traditional threats to giant pandas-cutting down trees, illegal hunting and mountain fires and obtain evidence to prosecute such crimes.
These threats have been reduced in the recent years due to economic development, Li says, and the increase of awareness of wild animal protection.