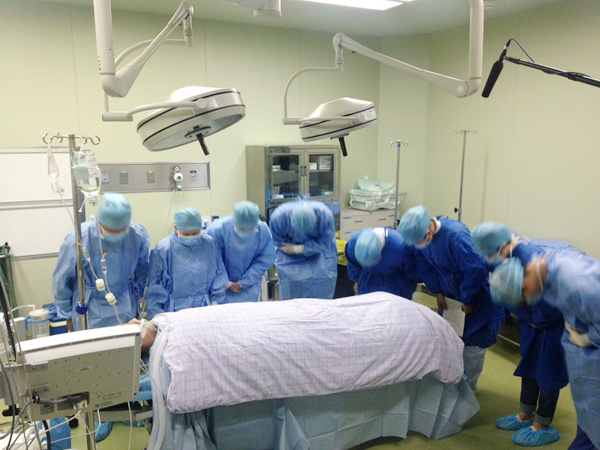 Doctors and nurses pay tribute to Jiao Yu's remains before the operation to remove his organs at Fudan University's Huashan Hospital in Shanghai, Nov 2, 2015. (Photo/huashan.org.cn)
The parents of a brain dead 24-year-old donated his organs to benefit six people, West China Metropolis Daily reported.
Kidneys from Jiao Yu's body were transplanted to a 25-year-old man and 37-year-old woman on the night of Nov 2, hours after Jiao died at Fudan University's Huashan Hospital in Shanghai.
Days later, Jiao's corneas, liver and lungs were transplanted to four patients at the hospital. "Transplant surgery was so successful that six people are cured," Zhang Ming, a doctor at the hospital, told Jiao's father.
New graduate Jiao was struck down at the end of August and his illness was later diagnosed as a brain tumor, but the cause of the tumor was unknown for some time.
After several rounds of radiotherapy there were few signs of improvement and Jiao's parents took their son to Huashan Hospital on Oct 25. Jiao was so weak that he could only take a train rather than a plane to Shanghai from Southwest China's Chengdu city.
Three days later, Jiao went into a coma during head surgery. He never woke and was certified brain dead at 14:30 pm on Nov 2.
"We will donate our poor son's useful organs to help people who are in desperate need of them", Jiao's parents told doctors.
"Our decision to donate your organs is to comfort your kind heart as we know you would also have the same wish", said Jiao's father, who bent over his son's remains.
Also in November, an 11-year-old girl was reported to have donated six organs at Wujing Hospital in Beijing to save six people.
Up to Aug 3, the Chinese mainland had recorded 1,479 voluntary organ donations, beating public expectations after the country banned the harvesting of organs of executed prisoners on Jan 1, said an expert.