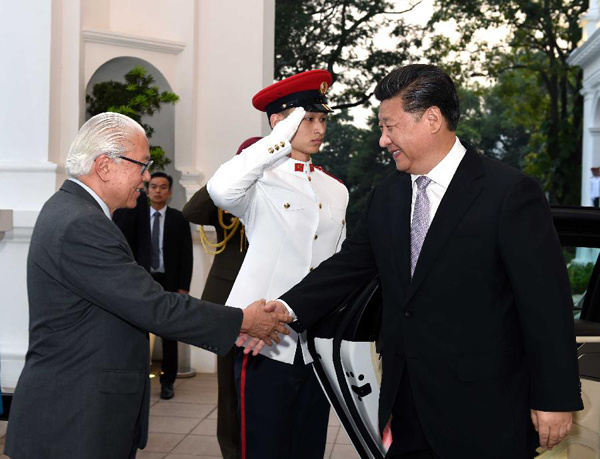 Chinese President Xi Jinping (R, front) meets with his Singaporean counterpart Tony Tan Keng Yam in Singapore, Nov. 6, 2015. (Xinhua/Rao Aimin)
China and Singapore aim to lift up their already-close ties with a new strategic framework and through more practical cooperation, as Chinese President Xi Jinping ended a two-day visit to the city-state on Saturday. [Special coverage]
During the visit, which marks the 25th anniversary of the establishment of diplomatic ties between the two countries, Xi met with his Singaporean counterpart Tony Tan Keng Yam and Prime Minister Lee Hsien Loong.
The leaders of the two countries had candid, cordial and in-depth discussion on bilateral ties as well as regional and international issues of common interest, and reached broad consensus in many areas, according to a joint statement issued at the end of Xi's state visit.
China and Singapore agreed to build a partnership of all-round cooperation keeping with the times, it said. Both countries should seize the momentum, be creative in practical cooperation, and build on past achievements for brighter bilateral ties.
During Xi's visit, the two sides also announced to launch negotiations on upgrading their seven-year-old free trade agreement (FTA) and the third government-to-government (G-to-G) project.
As a predominantly ethnic Chinese society, Singapore shares cultural roots with China and maintains close relations with China. Xi's visit is set to push bilateral ties to a new height, analysts said.
REDEFINING TIES
One of the major results arising from Xi's visit is that both countries agreed to redefine their ties as a partnership of all-round cooperation keeping with the times, a new strategic framework that could help deepen cooperation between them.
When meeting with Lee, Xi said both nations should enhance political mutual trust, strengthen top-level guidance and upgrade practical cooperation so as to achieve mutual benefits and win-win results as well as realize common development.
Both countries, Xi said, should also expand cooperation in economy, trade and investment, and actively explore mode of cooperation between the two countries' enterprises in a third market within the framework of the Belt and Road initiative.
The initiative, proposed by Xi in 2013, aims to revive the ancient trade routes that span Asia, Africa and Europe. Singapore, as a global transportation hub, is seen as a key nodal point of the initiative.
According to the statement, China and Singapore would continue make full use of the existing inter-governmental cooperation mechanisms, such as the annual Joint Council for Bilateral Cooperation, to guide and coordinate cooperation
FTA UPGRADE, CHONGQING PROJECT
Booming trade and the inter-governmental projects with huge investment have been most eye-catching in Sino-Singaporean economic ties.
Since 2013, Singapore has been China's largest foreign investor for two consecutive years. Between 1990 and 2014, Singapore's cumulative investment in China totaled 72.3 billion U.S. dollars, according to official data from Singapore.
During Xi's visit, the two nations agreed to do more.
They decided to launch negotiations for the upgrading of the existing FTA between the two countries.
The upgrade will be comprehensive, balanced and mutually beneficial, involving elements such as trade in goods, trade in services and investment, according to the statement.
The two countries agreed to "work towards the completion of the negotiations by 2016," it said.
In the meantime, China and Singapore also agreed to build the third G-to-G project in Chongqing, a sprawling metropolis in southwestern China.
Based on the theme of modern connectivity and modern service economy, the Chongqing project will become a high-level innovative demonstration project with a high starting point, the statement said.
Both sides identified four priority areas of collaboration in Chongqing -- financial services, aviation, transport and logistics, and information and communication technology.
China and Singapore currently have two G-to-G projects -- the Suzhou Industrial Park established in 1994 in eastern Jiangsu Province and the Tianjin Eco-City inaugurated in 2008 in north China's port city of Tianjin.
OTHER COOPERATION
In the 20-point statement, China and Singapore also agreed to cooperate in many other areas including finance, transport and info-communications, social governance, leadership and official training, science and innovation, culture, environmental and water conservation, agriculture and food safety, and among others.
The two sides agreed to promote the use of renminbi (RMB) in bilateral trade and investment, improve the use of the platform of the RMB clearing bank in Singapore, and steadily advance cross-border RMB business, it said.
Singapore welcomes the establishment of the China Cultural Center, it said.
On Saturday morning, Xi and Emeritus Senior Minister Goh Chok Tong attended the official opening ceremony of the China Cultural Center in Singapore.
The statement also said the two countries will work towards the early establishment and operation of the Asian Infrastructure Investment Bank, a China-proposed multilateral development institution tasked with financing infrastructure construction in Asia.
Also, Singapore supports the inclusion of the RMB into the International Monetary Fund's Special Drawing Rights basket of currencies, it said.
China and Singapore also agreed to strengthen communication and cooperation on regional and global affairs.
The two sides will work together with other ASEAN countries to promote even greater progress in the ASEAN-China strategic partnership and safeguard peace and stability in the region, it said.
Singapore takes turn as a coordinator country of China-ASEAN relations this year, and China is willing to join hands with the Southeast Asian country to build a community of common destiny between China and the 10-member ASEAN, Xi told his counterpart in a meeting on Friday evening.