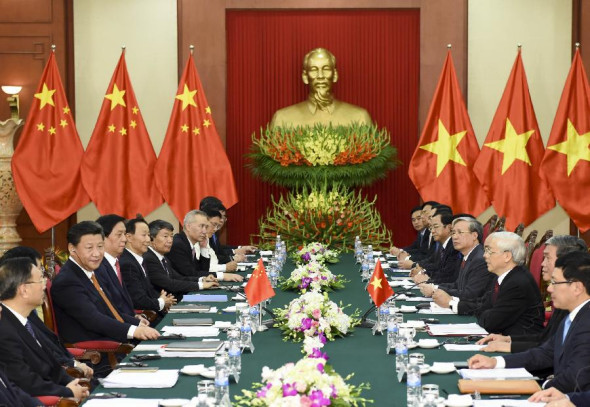 Chinese President Xi Jinping, who is also general secretary of the Communist Party of China (CPC) Central Committee, holds talks with General Secretary of the Communist Party of Vietnam Central Committee Nguyen Phu Trong in Hanoi, Vietnam, Nov. 5, 2015.(Photo: Xinhua/Li Xueren)
General Secretary of the Communist Party of China (CPC) Central Committee and Chinese President Xi Jinping held talks in Hanoi Thursday with General Secretary of the Communist Party of Vietnam (CPV) Central Committee Nguyen Phu Trong, and they agreed to push forward their countries' comprehensive strategic cooperative partnership.[Special coverage]
Xi is paying a state visit to Vietnam from Thursday to Friday at the invitation of Trong and Vietnamese President Truong Tan Sang.
During the talks between Xi and Trong, the two sides agreed to adhere to the guidelines of long-term stability, looking into the future, good-neighborly friendship and comprehensive cooperation, as well as the spirit of good neighbors, good friends, good comrades and good partners, and advance their partnership in a sustained, healthy and steady way.
China and Vietnam constitute a community of common destiny with strategic significance, Xi said, urging the two sides to inherit and maintain the "comradely and brotherly" traditional friendship built and carefully cultivated by Mao Zedong, Ho Chi Minh and other leaders of the older generation.
Xi conveyed congratulations for the 85th anniversary of the founding of the CPV and the 70th anniversary of that of Vietnam.
China supports Vietnam in sticking to the leadership of the CPV and adhering to the path of socialism as well as its cause of deepening reform, he said, voicing his confidence in the success of Vietnam's reform under the leadership of the CPV.
In the talks, Xi put forward a seven-point proposal on developing relations between the two parties and the two nations.
He suggested the two sides strengthen political guidance to bilateral relations, maintain the tradition of high-level exchanges and enhance their communication and mutual trust.
He called on the two sides to deepen party-to-party exchanges by implementing their new cooperation plan on cadre training and making a success of their theory seminars.
The two countries have reached consensus on expanding cooperation within the framework of China's Belt and Road Initiative and Vietnam's "Two Corridors and One Economic Circle" plan, as well as on enhancing production capacity cooperation, said Xi.
The two sides should make good use of the two working groups -- one for infrastructure cooperation and the other for finance and currency cooperation -- to push forward China's construction of the Long Giang Industrial Park and the Hai Phong Industrial Park in Vietnam, said the president.
"China is willing to expand investment and financing cooperation with Vietnam," he said, adding that China is ready to work with Vietnam to develop two-way trade in a balanced and sustainable manner.
He said the two sides should enhance exchanges and cooperation in such areas as military, UN peacekeeping operation, security, counter-narcotics, entry and exit administration, cracking down on telecom fraud, and cyber security.
On cultural and people-to-people exchanges, Xi called on the two sides to promote friendly sentiment between their peoples by enhancing cooperation in areas of media, culture, education, tourism and youth development.
On maritime cooperation, he urged the two sides to properly deal with and control their differences, gradually accumulate consensus and expand common interests through bilateral negotiations, and strive to achieve the common goal of joint exploitation.
China supports Vietnam in playing a bigger role in the international and regional arenas, said Xi, calling on enhanced coordination and cooperation between the two sides within multilateral and regional frameworks including the UN and the Asia-Pacific Economic Cooperation (APEC).
He also called for a stronger partnership between China and Vietnam in pushing forward the construction of the Asian Infrastructure Investment Bank, the upgrade of China-ASEAN free trade area and the negotiation on the Regional Comprehensive Economic Partnership.
China supports the building of the ASEAN community and backs Vietnam in hosting the APEC summit in 2017, Xi added.
Trong said Xi's state visit to Vietnam, which coincides with the 65th anniversary of the establishment of bilateral diplomatic relations, is of great significance.
The CPV and the Vietnamese government congratulates the CPC and the Chinese government on their achievements in the cause of national development, he said.
At present, Vietnam and China are both tasked with reform and development, he said, noting that strengthening bilateral communication and cooperation in various fields is not only in the interests of the two countries, but also conducive to regional peace and development.
The CPV, the Vietnamese government and the people have always cherished the relations with China, and are ready to work with China to advance their bilateral comprehensive strategic cooperative partnership, expand mutually beneficial cooperation, and effectively manage and control differences, he said.
The Vietnamese side agrees with China on maintaining close exchanges at various levels between the two parties and the two countries, promoting sustainable growth of bilateral trade, and advancing the alignment of the "Two Corridors and One Economic Circle" plan and the Belt and Road Initiative, Trong said.
Vietnam welcomes more Chinese investment in infrastructure construction and high technology, he said, calling on the two sides to expand cooperation in such areas as culture, defense, security, combating crimes and local affairs.
Xi and Trong also compared notes on their countries' respective domestic situations.
After the talks, the two leaders witnessed the signing of a number of cooperation documents covering such fields as party-to-party exchanges, transportation, tourism, production capacity, culture, railway, energy, finance and local affairs.
Before their talks, Trong held a grand welcoming ceremony in honor of Xi and his wife, Peng Liyuan, on the square of the presidential palace.
While meeting with Vietnamese Prime Minister Nguyen Tan Dung, Xi urged China and Vietnam to maintain maritime stability and promote maritime cooperation through friendly consultations.
Xi called on the two countries to deal with their relations with a far-sighted and strategic perspective no matter how the international situation changes.
He proposed China and Vietnam grasp the mainstream of their relations in politics, strengthen strategic communication, and enhance political mutual trust, so as to keep the development of their relations on the right track.
Xi called on the two countries to attach importance to practical economic cooperation and open up new prospects in economic and trade cooperation by docking their development strategies and implementing large projects.
He said China is ready to provide necessary support for Vietnam in strengthening infrastructure construction, deepen bilateral cooperation in finance, and continue to encourage its enterprises to invest and develop in Vietnam. He called on Vietnam to facilitate the investment and operations of Chinese businesses.
Xi urged China and Vietnam to strengthen coordination and cooperation in international affairs, pledging that his country will support Vietnam in participating in broad regional and global cooperation and is ready to work with Vietnam to boost regional economic integration.
Dung said Vietnam stands ready to join efforts with China to properly address their differences.
Vietnam agrees with China on the Belt and Road Initiative and is willing to facilitate investment and operations of Chinese enterprises, he said, urging the two sides to study and implement border pass facilitation measures.
The Vietnamese prime minister called on the two countries to increase mutual understanding and communication in border areas, and deepen exchanges between the two peoples, especially the young generations.
Xi arrived in the Vietnamese capital of Hanoi on Thursday, kicking off a two-day state visit to the neighboring country. It is Xi's first visit to Vietnam as head of state and CPC chief.
On Friday, Xi is scheduled to meet with Vietnamese President Truong Tan Sang and National Assembly Chairman Nguyen Sinh Hung. He will also address the Vietnamese parliament on China-Vietnam relations.
Vietnam is the first leg of Xi's two-nation Asia tour, which will also take him to Singapore on Friday.