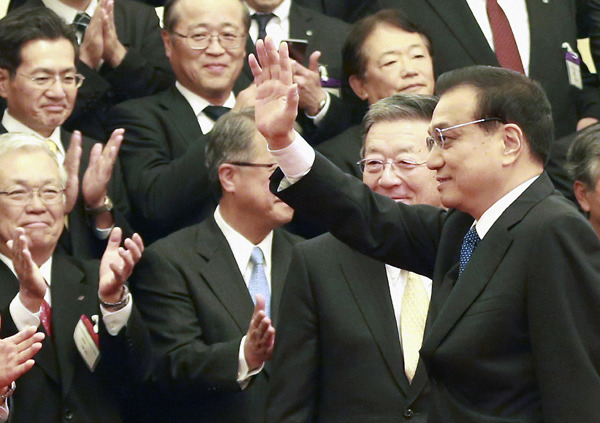 Premier Li Keqiang waves to delegates from the Japan-China Economic Association after a group photo at the Great Hall of the People in Beijing on Wednesday. FENG YONGBIN/CHINA DAILY
Tenor of relationship should not fluctuate, premier tells business delegation in Beijing
China is willing to work with Japan to push forward the development of stable, long-term ties, Premier Li Keqiang said on Wednesday.
Though the China-Japan relationship is being improved, Li told a Japanese business delegation in Beijing, both sides have to face the reality that there are some difficulties.
The nations should make efforts to prevent the fluctuation of ties to create more opportunities for both sides and maintain the peace and stability of Northeast Asia, Li said.
The delegation of 220 business leaders from 65 Japanese companies was led by Shoji Muneoka, chairman of the Japan-China Economic Association.
The association has organized such trips annually since 1975.
Li told the delegation that entrepreneurs should play an important role in improving ties, and he hoped that the business leaders would push the China-Japan relationship in the right direction.
The premier also outlined China's economic situation, government efforts in upgrading the economic structure and possible cooperation with Japan to develop new markets in other countries.
Some of the delegation members expressed concerns over the decline in Japanese investment in China and China's policies for foreign investors.
Muneoka said he has noticed that the Chinese government is using market mechanisms to resolve the problem of excess production capacity.
Hu Zucai, vice-minister of the National Development and Reform Commission, who met with the delegation on Tuesday, said that China is trying to achieve economic growth with technological innovation and environmental protection, and that China is willing to cooperate with Japanese companies, according to Kyodo News Agency.
During a meeting with Japanese Prime Minister Shinzo Abe on Sunday in Seoul, Li urged Japan to properly tackle the issue of history "in a responsible manner" and to "undertake positive policies toward China".
Li made calls for "nurturing mutual trust" and "deepening pragmatic exchanges and cooperation" during the meeting.
It is hoped that Japan will "fully perceive the great sensitivity, tangibly honor its solemn commitments made so far, effectively face history squarely and reflect on it, and properly tackle the relevant issue in a responsible manner", he said.