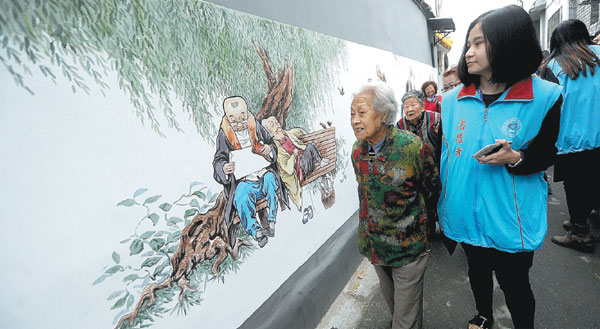 Beijing's first nursing care cultural center was opened on Oct 21 at Gongmenkou community in the Xicheng district. Converted from a storehouse, the station provides space to local senior people to read and play cards and chess. Wei Tong / For China Daily
A massive nursing home community being built about 80 kilometers southwest of Beijing is expected to provide 2,600 rooms for senior citizens from the capital when it opens next year.
Jialehui, in Gaobeidian, Hebei province, will have a complete range of facilities, including apartment buildings, clinics, entertainment facilities, gyms and a swimming pool, according to plans.
The community is a pilot project in the Beijing government's strategy to build large nursing homes outside of the capital to cope with the increasing need for quality nursing facilities in an excessively crowded city.
"Many nursing homes in the urban areas of Beijing lack enough facilities due to a shortage of land," said Xin Yu, a marketing manager for China Standard, a company in Beijing that will manage Jialehui.
"Here in Hebei province, we can provide more facilities for the seniors so they can start a second wonderful life after retirement."
According to Li Wanjun, head of Beijing Municipal Bureau of Civil Affairs, more nursing homes to accommodate Beijing's rapidly aging population are expected to be built outside of the city in the next few years,
No more big nursing institutions will be built in Beijing due to the city's high land costs and the government's plan to integrate its development with its surrounding areas to reduce congestion in the municipal core, Li said.
It is far cheaper to build big nursing homes in Gaobeidian, an hour's drive from the city, and the area provides seniors with a more suitable natural environment, he said.
"If it is successful, more similar nursing homes may be built around Beijing," Li said.
The number of permanent residents in Beijing aged 60 years or older was about 3 million last year, accounting for more than 22 percent of the city's total permanent population, according to a report released in June by the Beijing Municipal Commission of Health and Family Planning.
The average life expectancy in Beijing last year rose to nearly 82, two years longer than it was 10 years ago, making Beijing residents among the oldest in China, according to the report.
According to the China National Committee on Aging, as a wealthier China ages, nursing homes that cater to middle-income residents are facing a severe shortage in big cities such as Beijing.
Apart from building large nursing homes outside of the capital, the Beijing municipal government also will encourage the construction of smaller nursing care centers in major communities of the city's urban areas, Li said.