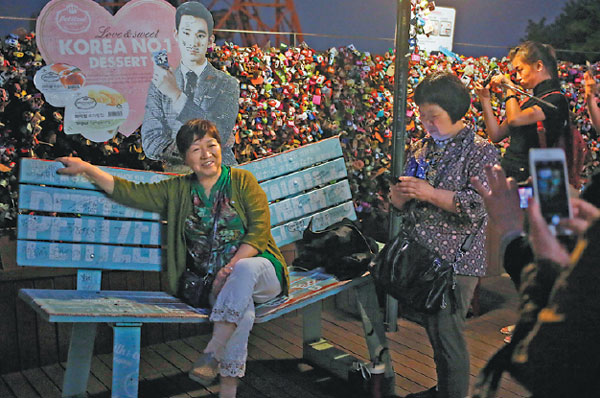 Chinese tourists take photos near the Seoul Tower in Seoul in April. The city hosted a series of events in tourist destinations in May to attract visitors from China. Liu Zhe / China Daily
The Republic of Korea's China Tourism Year-in which efforts were made to promote Chinese attractions to ROK tourists - came to an end on Sunday, with senior officials from both countries pledging to promote tourism cooperation at high levels of government. [Special coverage]
Speaking at the closing ceremony, Premier Li Keqiang said China and the ROK are each other's largest overseas tourism destinations with personal visits exceeding 10 million.
"This is a major breakthrough, not only showing that China and Korea have geographic proximity but also share similar cultures. For Chinese and Korean tourists, traveling to the other country is like visiting relatives or calling on neighbors," Li said. "The tourism industry, to some extent, is not only about economic activity but also about human activities. It enhances mutual understanding and bridges relationships."
Next year, the focus will be reversed, with 2016 designated as China's ROK Tourism Year. The virtues of the ROK will be emphasized to potential Chinese visitors.
Li said that while this year's program has concluded, comprehensive high-level tourism cooperation has just begun.
"During the ROK Tourism Year, in 2016, China will encourage more Chinese tourists to visit the ROK, while at the same time welcoming more ROK tourists to China," Li said.
"The growth of consumption brings confidence and employment. I am happy to see more and more tourists and consumers between China and the ROK visit each other's country," he said. "Chinese enjoy ROK cuisine. We will import Korean ginseng chicken soup. And we will also research standards to provide support for Korean kimchee imports."
ROK National Assembly Speaker Chung Ui-haw said they will push bilateral tourism and cooperation in various fields to a higher level by taking advantage of the coming ROK Tourism Year in China.
Tourism exchanges between China and the ROK were affected by outbreak of Middle East respiratory syndrome in May, but the flow of tourists is normalizing as the shadow starts to fade. According to the National Tourism Administration, total visits from the ROK to China reached 3.29 million from January to September, an increase of 6.8 percent compared with the same period last year.
Li Jinzao, director of the administration, called for more facilities to help tourists in both countries.
"We will have more Korean introductions and signs in China's scenic spots. For example, now at Yellow Mountain we have signs in Korean," said Li. "We also noticed that there are more and more Chinese signs in the ROK's airports and scenic spots. However, this is not enough."