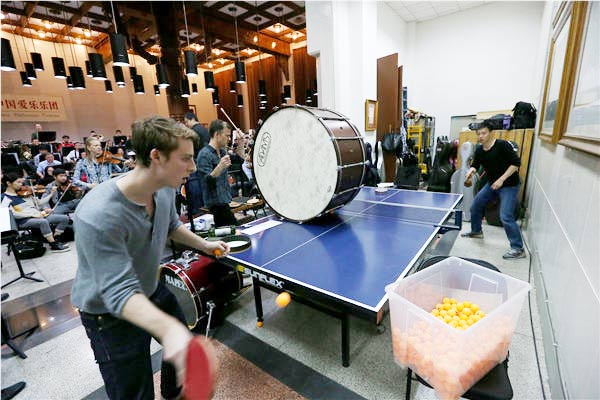 Table tennis players share the stage with musicians in the PingPong Concerto in Beijing. Jiang Dong / China Daily
In April 1971, members of a U.S. table tennis team became the first American athletes to visit China before the two countries established diplomatic relations. The sport helped to pave the way for Richard Nixon to come to Beijing in February of the following year. Two months after the U.S. president's visit, Chinese table tennis players were invited to the United States.
The "ping-pong diplomacy" was on display again - this time at Beijing's Poly Theater, where players and musicians from both countries gathered on Thursday to perform a show cheering Sino-U.S. exchanges of the early 1970s.
Co-commissioned by the Beijing Music Festival and Shanghai's Music in Summer Air festival, the Ping-Pong Concerto witnessed an orchestra, violin soloist, a percussionist and two table tennis players working together. A real table for the match was set in front of the members of China Philharmonic Orchestra and conductor Zhang Yi's podium.
In the first few minutes, the violinist Elizabeth Zeltser from New York Philharmonic played the major part of the piece. Then the U.S. table tennis player Michael Landers and Chinese-American player Ariel Hsing played their game as the orchestra performed. The ball went back and forth, making a a rhythmic sound on the table.
Then percussionist David Cossin joined in. He used different cooking instruments such as the dough rolling stick to hit the table and a beverage bottle on it.
"For me it's the mixing of unique concepts," says American composer Andy Akiho, 36. "It's not only novelty but a real music piece in which ping-pong players are the musicians, too. It's a conversation between the orchestra, the soloist and the players."
Akiho likes to explore crossover music and has had many opportunities to create new music.
When Yu Long, artistic director of the Beijing Music Festival, talked with his agency, Columbia Arts Management Inc in New York, about commissioning a piece to commemorate the "ping-pong diplomacy", a friend recommended Akiho to him. They then went to the SPiN Club in New York, which combines table tennis with live music.