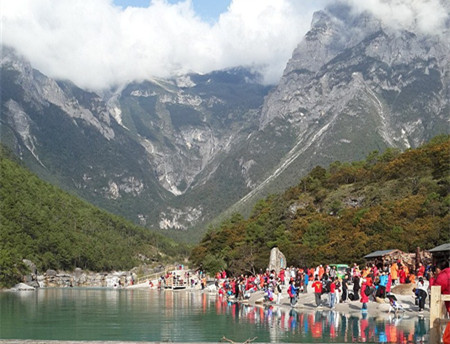 Lijiang, the ancient capital of the Naxi Kingdom in northwestern Yunnan Province, is a favorite tourist destination because of its ethnic heritage, its stunning scenery and its dream-like tranquility.
Lijiang's Dayan old town is listed as a UNESCO World Heritage Site. With more than 800 years of history, this place has long been a melting pot for ethnic minorities such as the Naxi, Bai, Yi and Tibetans. It was once a major stop on the old Tea Horse Road, or Southern Silk Road, connecting Sichuan Province and Tibet Autonomous Region.
American explorer and botanist Joseph Rock helped put the city on the map. According to Stephanne Sutton's "In China's Border Provinces," Rock spent more than 25 years in Lijiang between the 1920s and 1940s, collecting native plant and bird specimens.
He also studied the Naxi people, their language and their culture. With the help of local Shaman priests, or dongba, he translated many old manuscripts. Rock affectionately called his Naxi servants the "simple and honest sons of Mother Nature."
In 1949, amid uncertainty after the founding of the People's Republic of China, Rock moved to Hong Kong. In a letter to Elmer Merrill at Harvard University's Arnold Arboretum, he said, "I will see how things go during the next year. If all is okay, I will go back to finish my work. I want to die among those beautiful mountains rather than in a bleak hospital bed all alone."
He was 65 at the time. He died in Honolulu in 1962 without ever having returned to China.
Today, visitors to Lijiang can go to Yuhu Village to pay homage to Joseph Rock, whom the locals still call the "Father of Naxiology." Rock's former residence reopened in March after undergoing renovation work.
It's a simple residence of three rooms. Upstairs is the living room, which still contains all the personal belongings that Rock left with his Naxi servants when he left China. They include his shotgun, fur overcoat, leather boots and a suitcase. The residence also has a room that serves as an exhibition area, displaying photos taken by Rock and the tools he used for collecting plant specimens.
Yuhu Village, set against the backdrop of Jade Dragon Snow Mountain, provides an excellent example of typical of Naxi architecture. Snaking along the cobblestone alleys are old wooden houses with bird wing roofs. The village men are often in backyards, planting vegetables, while their wives sit out front, weaving or sewing with dogs asleep at their feet. The children are shy of visitors, often darting off with a quick smile.
Since ancient times, Jade Dragon Snow Mountain has been a sacred place for the Naxi people. The mountain range has 13 summits and boasts the southernmost glacier in the Northern Hemisphere. The year-round snow was said to give the range the appearance of a dragon sleeping atop it, hence the name. The highest peak is Shanzidou at 5,596 meters.
You may not get all the way to the top, but there is a cable car running up to an altitude of 4,506 meters, where a large terrace affords breathtaking views of the mountains, lakes and forests. The hardy traveler can walk another 180 meters up a pathway to a lower summit, but in the thin air, the short distance can be heavy going.
Half way down the Jade Dragon Snow Mountain are streams and pools formed by the melting snow. Most visitors enjoy stops at three designated meadows on the mountain slope — Ganhaizi (Dry Sea) Meadow, now home to the world's highest golf course; Yunshan (Spruce) Meadow, where you can go horseback riding at 4,506 meters above sea level; and Maoniu (Yak) Meadow, which features breathtaking views and access to a number of hiking trails. Each of the meadows has its own special character due to the varying altitudes.
At the foot of the Jade Dragon Snow Mountain, there is an outdoor theater where film director Zhang Yimou's "Impression Lijiang" is staged three times a day. Against a breathtaking backdrop, the performance begins with more than 400 male performers, all in various traditional ethnic garb, who are lined up along a mountain path, shouting to the sky: "We are farmers, we are stars."
The show, through song and dance, largely depicts the daily lives of local people. It also tells the legend of the ill-fated pair of Naxi lovers who sought to escape from arranged marriages and feudal ethics. After bidding farewell to their families, they packed a horse with food and went to live in the wilds until their supplies ran out. In the end, they jumped off a mountain cliff together.
After a strenuous day in the mountains, a day of rest in Lijiang is not only welcome but also rewarding. The old towns of Shuhe and Dayan are worth a leisure visit.
Dayan old town was built without a fortress wall. Legend has it that when the Naxi chief of the city was given the surname "mu (木)" by the Ming Emperor Zhu Yuanzhang (1328-98), he was leery about the encased version "kun (困)," which meant "besieged."
As a result, the layout of the town is open and rambling. Houses are built closely together; lanes are narrow and meandering. The buildings exhibit architectural traits of Han, Bai and Tibetan into a unique Naxi style.
Lion Hill, with the Wangu Pavilion at its summit, overlooks the old town. The pavilion is of Qing Dynasty (1644-1911)architecture and contains 10,000 dragon carvings.
The old town has become a popular destination for young Chinese artists, students and adventurers. It comes alive at night when music and dancing fill the establishments along Bar Street. It is extremely easy to get lost here in the grid-free maze, where every corner can turn into a new adventure.
Accommodation in Lijiang fits all pocketbooks — from backpackers to luxury rooms. The most interesting, perhaps, are boutique hotels in converted in traditional houses. Restaurants, too, range from cheap snacks to high-end dining. By Western standards, a trip to Lijiang will seem well-priced.
Lijiang tourism likes to characterize this as a place "where one finds a lifetime affair." I can't say that quite happened to me after an eight-day trip there. Rather, I would describe Lijiang as a place where "one's inner soul meets the true beauty of the natural world."