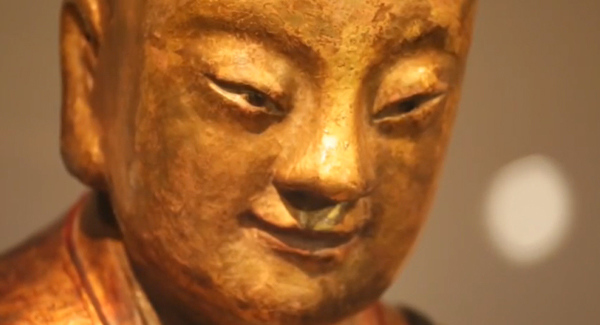 The face of the mummified Buddha. (Photo provided to chinadaily.com.cn)
As the birthday of Patriarch Zhanggong (the Buddhist monk whose mummified statue was stolen from China) approaches, Li Zhen, an overseas liaison officer, hoped for the statue's earliest return to China at a manifestation held in Amsterdam on Oct 19.
Zhanggong was born during the Northern Song Dynasty (960-1127) in present day Yangchun village in Fujian province.
His traditional birthday is on the fifth day of the 10th month, according to the lunar calendar, which this year falls on Nov 16.
As a monk Zhanggong cultivated his moral character and did good for the benefit of others. When he died at the age of 37, villagers mummified his body in a statue and worshipped him in Puzhao Temple which bore his name according to religious belief, customs and traditions. Even after the mummified statue was stolen in Dec 1995, villagers continued to pay deep reverence to the monk through a camphorwood replica.
The statue resurfaced after two decades at an exhibition at the Hungarian National History Museum. It was discovered later that a Dutch collector, Oscar van Overeem, had purchased it in Amsterdam in 1996.
Officials and the public have made efforts through communication and negotiations with Overeem about the return of the statue.
State Administration of Cultural Heritage, a government body that has been negotiating for the statue's return, has and will continue to maintain an active, amicable and cooperative attitude towards the collector and would accept reasonable suggestions proposed by him.
"We are grateful for the care, maintenance and research done on the statue by the collector for almost 20 years," said Li.
In previous reports, the collector has expressed a willingness to return the statue but to a designated location of his choice and hints at seeking reimbursement from China.
"We understand and accept the fact that Mr van Overreem's purchasing of the statue happened unknowingly. I think China should compensate him for his costs and research," Li said.
As for the location of the statue after its return, Li thinks Puzhao Temple is the only choice available.
"I think Mr van Overeem is in no position to choose and appoint another place to arrange for Patriarch Zhanggong. Nobody has the right to change the folk customs, traditions, and history.
"However, we sincerely hope that the Dutch collector, in line with human morality, religious belief and modern civilization, can realize that the statue is a Chinese cultural relic that contains the remains of a Chinese ancestor. It was stolen and smuggled, but all transactions cannot change that fact that it belongs to its original, only and permanent owner and keeper - Puzhao Temple in Yangchun Village and the worshippers."