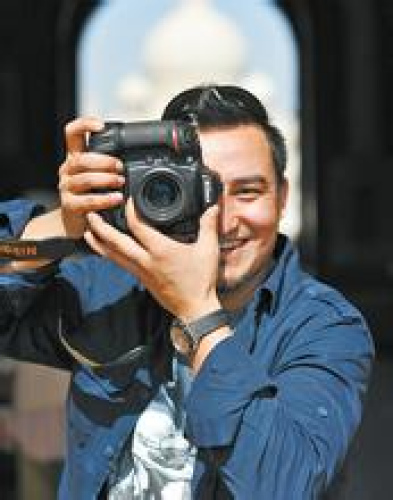 Kurbanjan Samat (File photo)
When amateur boxer Kurbanjan Samat bought his first camera, he never expected to use photos to fight the stereotypes surrounding people from his native Xinjiang.
"You might be thought of as a barbecue operator, nut cake vendor, or even dangerous person by some people if you're from Xinjiang," the 33-year-old Uygur photographer and documentary filmmaker says, referring to the wrong perceptions of people from this remote northwest corner of China.
Following a series of terrorist incidents inside and outside Xinjiang in recent years, the region that accounts for one-sixth of China's land territory begins to attract more attention.
People like Kurbanjan want to show real lives of Xinjiang people and make others better understand this multicultural region.
Kurbanjan dresses like a typical young stylish Chinese man in a fitted black shirt, cream rayon pants and black sneakers, as he is interviewed about his photo essay "I Am from Xinjiang", which tells the stories of 100 Xinjiangers of various ethnicities and professions across China.
With a Chinese and English version well received, its Arabic, Turkish and Japanese translations are in the pipeline.
Kurbanjan is raising money to turn the work into a documentary film.
Explaining his motivation for the project, he points to an online comment by a child from Henan who wrote that he has never been to Xinjiang but supports what Kurbanjan is doing because he knows what it is like to combat stereotypes -- in his case, Henan people are liars.
Regional stereotypes exist in many parts of China.
Henan Province used to be thought of as the center of counterfeiting. Several young Henan residents have written a book to express their discontent with the stigma.
"People have a tendency to label a certain group after a certain incident," Kurbanjan says. "The stories I told have nothing to do with ethnicity, religion and region. We are the same."
Critics have said that besides Kurbanjan's images, what's impressive is the stories behind the pictures. Each is accompanied by a biography of their subject, and Kurbanjan's backstory is no less interesting.