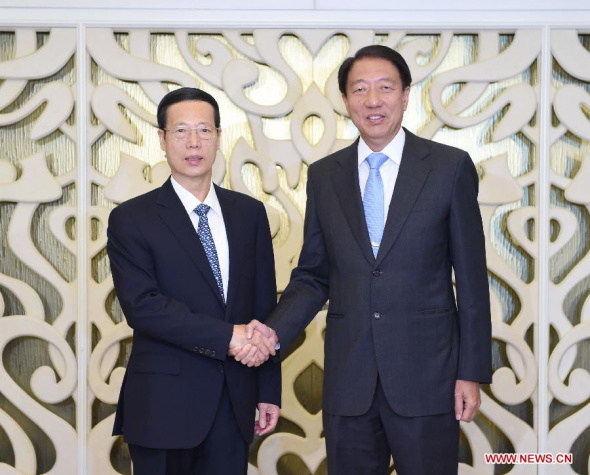 Chinese Vice Premier Zhang Gaoli (L) meets with Singaporean Deputy Prime Minister Teo Chee Hean in Singapore, Oct. 12, 2015. (Photo: Xinhua/Gao Jie)
Chinese Vice Premier Zhang Gaoli arrived in Singapore on Monday for an official visit to the Southeast Asian nation to further promote bilateral ties.
Upon arrival at the hotel, Zhang met with his Singaporean counterpart Teo Chee Hean and attended a welcome reception hosted by Teo.
Zhang's visit came as the two countries celebrated the 25th anniversary of forging diplomatic ties earlier this month. He is also the first Chinese leader to visit Singapore in the wake of Singapore's general election on Sept. 11.
During his visit, Zhang is scheduled to meet with Singaporean President Tony Tan Keng Yam and Prime Minister Lee Hsien Loong.
Zhang, together with Teo, will co-chair the 12th meeting of China-Singapore Joint Council for Bilateral Cooperation, a high- level institutional mechanism established in 2003 to oversee the entire range of bilateral cooperation.
Zhang will also preside over the 17th China-Singapore Joint Steering Council Meeting for the Suzhou Industrial Park and the eighth China-Singapore Joint Steering Council Meeting for the Tianjin Eco-city.
The Suzhou Industrial Park and the Tianjin Eco-city are two flagship projects between the two governments to promote their cooperation in high-tech industries and sustainable development.
Since the establishment of diplomatic relations in 1990, bilateral cooperation between China and Singapore deepened in various fields.
China is now Singapore's No.1 trading partner while Singapore is China's largest investment source.
Statistics from the International Enterprise Singapore shows that the two-way trade between China and Singapore grew up to 95.8 billion U.S. dollars in 2014, from 2.8 billion dollars in 1990.
As bilateral relations strode forward, both China and Singapore are mulling a new intergovernmental project in China's western region.
During a week-long visit to China in June, Singaporean President Tony Tan discussed the possible new project with Chinese leaders and was told by his Chinese counterpart Xi Jinping that China hoped that it will become "an exemplary one" in China's " Belt and Road" initiative.
The Silk Road Economic Belt and the 21st Century Maritime Silk Road, proposed by Xi in 2013, are aimed at reviving the ancient trade routes that span Asia, Africa and Europe.
Chinese Ambassador to Singapore Chen Xiaodong said in a recent interview that both sides will discuss bilateral cooperation at a wider and deeper level during the visit, including the third intergovernmental project and the upgrading of a bilateral free- trade agreement signed in October 2008.
According to Chen, the third project will focus on connectivity, modern logistics and finance.
Zhang's entourage also included officials from Chongqing Municipality, an economic hub along the Yangtze River in western China.
On the upgrading of the free-trade agreement, Chinese Foreign Minister Wang Yi said in his visit to Singapore in August that a negotiation on the issue should be launched as soon as possible on the basis of feasibility study.
"Singapore can benefit a lot from the trade and investment exchanges with China," said Gu Qingyang, associate professor of the Lee Kuan Yew School of Public Policy at the National University of Singapore (NUS).
On the other side, China's "Belt and Road" initiative can bring opportunities and add impetus to Singapore's economy, he added.