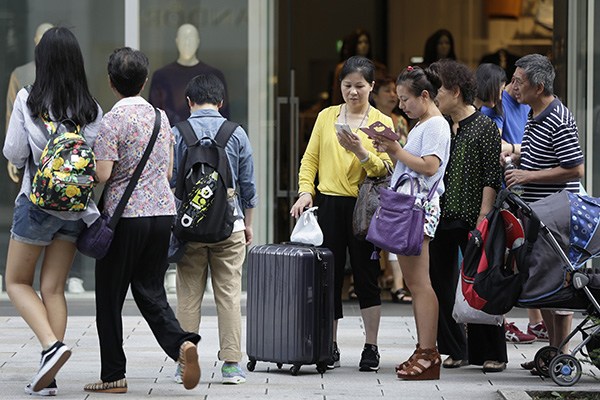 Chinese tourists visit Tokyo's Ginza district for shopping in August. Japan is the second-most popular overseas destination. (Photo provided to China Daily)
Hong Kong is losing its luster for the increasingly affluent, sophisticated mainland tourists during the National Day holiday.
"The passion of mainland travelers (for Hong Kong) has dampened dramatically this year," said Sarah Leung, director of the Hong Kong Tourism Industry Employees General Union.
She said the number of tour groups from the mainland during Golden Week will drop an estimated 10 percent compared with the same period last year.
The situation regarding hotel bookings is grim, with the number of reservations slumping notably, Leung added.
"Hong Kong's retail market and restaurants have taken a hard blow since the start of this year. The revenue throughout the year is projected to fall 20 to 30 percent compared with last year," Leung said. "We predict that the two industries will continue going downhill during the Golden Week due to the reduced number of mainland travelers."
China Youth Travel Service in Beijing confirmed the same trend. The number of planned trips to Hong Kong dropped 15 percent during Golden Week compared with the same period last year. The total number of visits from the mainland to Hong Kong from January to September dropped 17 percent.
For years, Hong Kong was the first choice for outbound Chinese mainland tourists. Now it's losing visitors to competitors such as Macao, South Korea, Japan, Thailand and Europe.
A 2013 report from Boston Consulting Group said Chinese mainland tourists are set to abandon Hong Kong for the wider world within a decade.
"Mainland people, especially luxury-goods consumers, have no intention to travel to Hong Kong. They've switched to European countries," said Leung, who went to Beijing recently to look into the potential tourism market. "It is Hong Kong people's hostility toward mainland tourists that has led mainlanders to lost interest and trust in Hong Kong."
Xu Xiaolei, spokesman for China Youth Travel Service, said Chinese mainland tourists' first choices are becoming more diversified as overseas destinations are improving their services to attract affluent Chinese.
"In the past, many clients would consider the language and culture barriers, distance, expense and convenience of getting a visa when planning their first overseas trip. So Hong Kong jumped out as the perfect choice," Xu said.
"I wouldn't say Hong Kong is not attractive at all. I am saying that the travel experiences in other overseas destinations are as friendly as, or even friendlier than, Hong Kong's."
Simon Lee, senior lecturer at the School of Accountancy of the Chinese University of Hong Kong Business School, said Hong Kong lacks the kind of surprises that tourists expect.
"It only has the Ngong Ping 360 cable car and Hong Kong Disneyland, constructed 10 years ago, compared with the huge tourist infrastructure in Singapore and Macao," said Lee.
"Hong Kong is only an agent in retail sales, and the products are not produced here. Due to the high rent, no matter whether the products are luxurious or inexpensive, prices are 10 to 20 percent lower in Thailand, Japan and Taiwan. Even Hong Kong people think that it is not a good value for the money."
Hong Kong needs more resort hotels, a new theme park, more mega-events and better protection of its heritage, Lee added.
Tian Jie, a senior lecturer at the School of Hotel and Tourism Management at the City University of Hong Kong, said that Hong Kong needs to look at potential tourists from second-and third-tier mainland cities.
"Now that Hong Kong has lost its appeal among people from coastal cities and big cities such as Beijing and Shanghai, why not tap into the market in less-developed cities?" she said.
Another alternative, Tian said, is for Hong Kong to draw on its transfer-point advantage.
"We can target overseas tourists who might be willing to stay one or two nights in Hong Kong before they head for the mainland."
Zhang Jiajie, assistant professor of geography at the University of Hong Kong, said that Hong Kong has great potential to develop itself as a "springboard" to other countries at home and abroad.
"The transport connectivity of Hong Kong is well-established. Many tourists need to transfer their flights in Hong Kong, which is an opportunity to attract them to travel and stay overnight," he said.