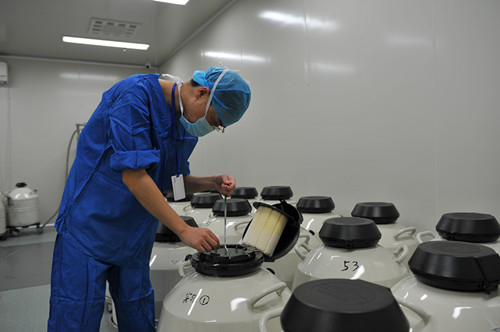 Medic checks liquid nitrogen tank where embryos are stored.(Photo/china.org.cn)
At the heart of Jiangsu provincial People's Hospital laboratory are a dozen tanks of liquid nitrogen, where human embryos were kept at minus 196 degrees Celsius.
The fertility center of the hospital announced for the first time that over 10,000 embryos have been left behind since 2005, of which a first batch of over 1,000 will be destroyed in accordance with Informed Consent.
If a couple wants to keep their frozen embryos for longer , they should inform the center and pay the renewing fees within a month.
Tens of thousands of embryos have accumulated in fertility centers throughout the country, mostly in Jiangsu province. A couple has kept more than 10 frozen embryos left over from in vitro fertilization in Jiangsu provincial People's Hospital.
The storage cost is 180 yuan (about U.S.$ 28) per month said Wang Wei, director of the fertility center. Tens of thousands of frozen embryos were kept in the center but few couples paid the fees.
It seems to be a taboo for Chinese couples to claim that their children were born through in vitro fertilization, therefore they mentally cut themselves off from the hospital afterwards, Wang Wei added.
According to China's health authorities, embryo adoption is not available. The frozen embryos could be donated for medical research or be destroyed.
For those couples that agreed to donate embryos for medical research, the renewal fee is waived. For divorced couples, according to Ministry of Health regulations, any party of the divorce has the right to destroy the embryo.