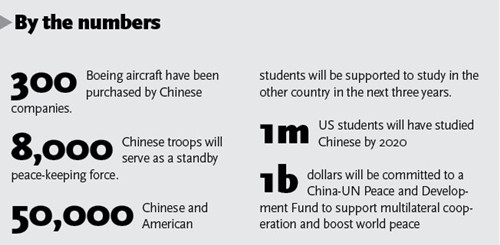 Upcoming UK tour at invitation of Queen
Chinese President Xi Jinping's first State visit to the U.S. has improved cooperation between the two countries with enhanced strategic mutual trust and dozens of agreements, a senior Chinese official said on Tuesday. [Special coverage]
Analysts in China said Xi's week-long visit has boosted confidence in bilateral ties that have entered a new level, as the two countries have further expanded cooperation and worked together to manage the differences.
Chinese Foreign Minister Wang Yi said that Xi's trip was a historical state visit as it came at a time when the world seeks common development and expects a benign interaction between major powers against the background of the 70th anniversary of the end of WWII, the Xinhua News Agency reported.
"Xi's visit will lay a sound foundation for the development of Sino-U.S. relations in the long run and will help seek more opportunities for domestic development. It will also become a new model for international relations," Wang said.
China also offered a new prospect to the development of international relations through Xi's elaboration at the UN summit where he offered a blueprint for building an equal and mutually-understanding partnership and creating a world of justice co-constructed and shared by all countries, according to Wang.
He added that China has also offered new solutions to promoting global development, including a $2 billion fund to support South-South cooperation.
"Xi's visit is a major diplomatic move by the largest developing country on the largest developed country to seek peaceful development and win-win cooperation … China will continue to make proposals to strengthen international cooperation and make contribution to common development and solution to global challenges," Wang said.
According to Wang, a total of 49 agreements or consensuses have been reached by China and the U.S. covering various fields from energy and aviation to public health.
The two presidents have also exchanged opinions on sensitive issues including cyber security, military exchange and more global affairs such as Iran and the Korean Peninsula, which are also a reflection of the new model of major power relations, Wang said.
"Bilateral cooperation has expanded to new areas where the two sides will join hands to tackle global issues. For example, the two countries signed a memorandum to combat poverty and famine worldwide by regulating the bilateral cooperation mechanism to boost foreign aid," Tao Wenzhao, a research fellow at the Institute of American Studies of the Chinese Academy of Social Sciences, told the Global Times.
Tao added that the consensus reached on fighting cyber crimes, and stepping up investigation assistance and information sharing on cyber cases indicates the efforts made by the two countries to seek cooperation in topics where opinions are still divided.
"China and the U.S. also won support from both their people and the world for promoting the global economy recovery and the stability of world financial market," he added.
UK visit due in October
In October, Xi will make his first visit to the UK, after British Finance Minister George Osborne visited China to strengthen economic ties.
According to the British government, Xi and his wife, Peng Liyuan, will stay at Buckingham Palace during Xi's visit from October 20 to 23.
The Chinese foreign ministry confirmed that the State visit in October was at the invitation of Queen Elizabeth II, without offering more details.
"We believe the visit will further improve bilateral ties and enhance cooperation between China and the UK in various fields to upgrade the comprehensive strategic partnership of the two countries," Hong Lei, spokesperson of the Chinese foreign ministry, told the Global Times on Tuesday.
The last Chinese head of state to visit the UK was then president Hu Jintao in 2005.