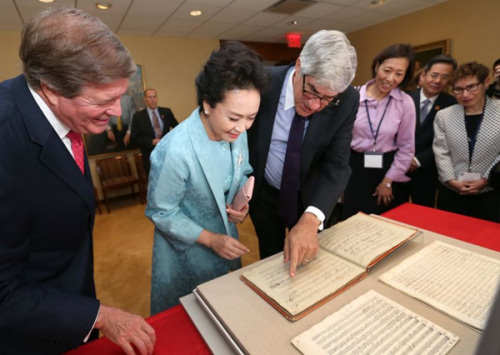 Peng Liyuan admires manuscripts of Beethoven and Mozart in Lincoln Center in New York on September 28, 2015. (Photo/Xinhua)
Chinese First Lady Peng Liyuan on Monday called for greater efforts to promote cultural and people-to-people exchanges between China and the United States when visiting two leading art and cultural institutions in New York.[Special coverage]
Touring the renowned Lincoln Center for the Performing Arts, Peng noted that in recent years, the center has played an active role in promoting China-U.S. cultural exchanges and enhancing friendship between the two peoples.
Peng was here accompanying her husband, Chinese President Xi Jinping, for a series of activities at the United Nations headquarters following a state visit to the United States.
As a famous soprano with a successful career in China herself, Peng has been invited to perform on the stage of the Lincoln Center in 2005.
"My husband's successful state visit to the United States injects new vitality into people-to-people exchanges between our two nations, and I hope the cultural exchanges between China and the United States would be more splendid, making greater contribution to the deepening of the relationship between our two peoples," Peng said.
In the Juilliard School, a leading performing arts conservatory located in the Lincoln Center, Peng attended a performance class and the inauguration of the Juilliard's branch in the Tianjin Conservatory of Music, which offers master degree in music.
Encouraging students from both countries to do more communication and learning from each other, Peng hoped that more concrete action would be taken by both sides in a more colorful manner to facilitate and enrich cultural and people-to-people exchanges between the two countries.