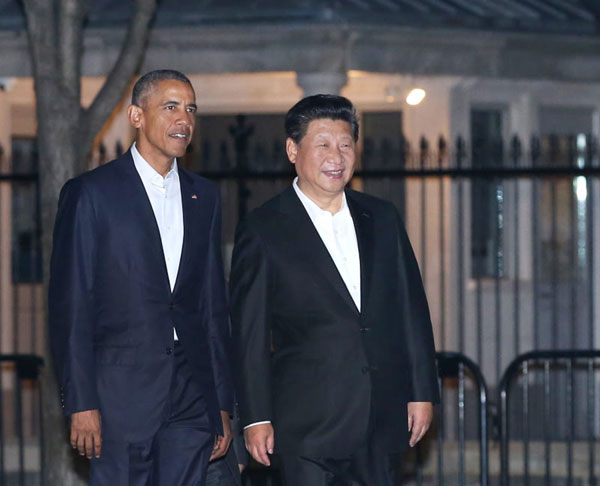 U.S. President Barack Obama, left, chats with Chinese President Xi Jinping as they walk from the West Wing of the White House to a private dinner across the street at Blair House, in Washington, September 24, 2015. (Photo provided to chinadaily.com.cn)
China will cooperate with the United States on cybersecurity, but it must be based on principles of mutual benefits, mutual respect and equality, said a spokesman for China's Foreign Ministry. [Special coverage]
The right approach to address the issue is for both governments to work together instead of taking actions that undermine cooperation, Lu Kang also told a press conference on Thursday evening less than three hours after President Xi Jinping arrived in the U.S. capital for a state visit.
He was largely referring to the U.S. Justice Department indictment on May 19, 2014, of five officers of the People's Liberation Army for alleged cyber espionage of intellectual properties from U.S. corporations.
China denied the charges and then suspended the newly established bilateral working group on cybersecurity.
Lu acknowledged that the two countries have differences on issues, but the good thing is that they are discussing them. But he did not say whether the bilateral working group will be resumed.
Lu said China is against cyber attacks and cyber crimes just like many other countries. "We never hastily accuse any other countries even if we could, like some other governments, just said, for example, this IP (Internet Protocol) address is located in this or that country," he said. "Because on Internet, that does not make sense just with this IP address,"
Lu also emphasized that the freedom of passage and freedom of navigation should be conducted in accordance with international law. He told the mostly non-Chinese journalists that China cares more than anyone else about the freedom of passage and navigation in its part of the world because the country's exports and resources go through there.
China has often said that the current maritime territorial disputes are between China and a few countries in the region, not between China and the U.S.. But Lu said whenever the U.S. raises the issue, China is happy to discuss it and make clear the rationale behind the Chinese policies.