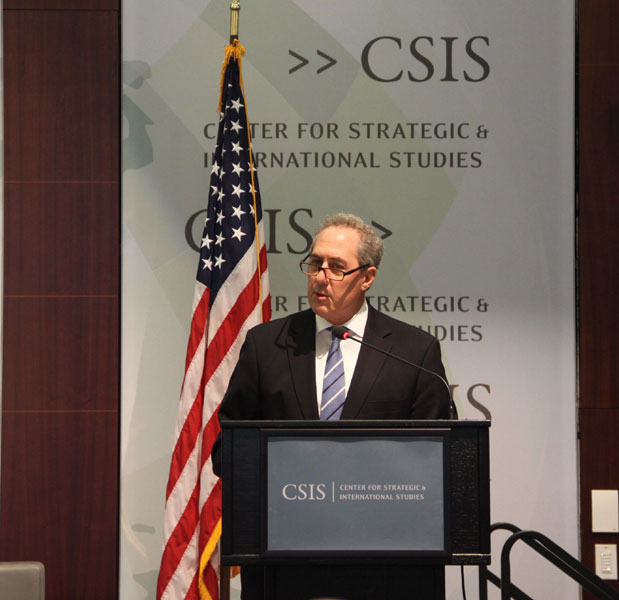 The US Trade Representative Michael Froman said at the Asian Architecture Conference in Washington on Tuesday that the US and China will see more cooperation in agricultural trade and service sector. (Photo provided to chinadaily.com.cn)
The bilateral investment treaty between China and U.S. have made substantial progress and the bilateral trade will focus on agricultural and service sectors, said a senior American official on Tuesday. [Special coverage]
Michael Froman, the U.S. trade representative and principal advisor and negotiator on international trade and investment of U.S. President Obama, revealed the progress of BIT negotiations and the forthcoming focus of China-U.S. trade at the Asian Architecture Conference hosted by the Center for Strategic and International Studies.
Froman said the U.S. and China had important progress in the negotiations of bilateral investment treaty over the past 20 months and saw China's efforts to offer a revised negative list by senior Chinese officials. "However we still have substantial distance from making an agreement during President Xi's visit," he said,
Froman said a peaceful rise of China is not only beneficial to China itself but the globe as China is changing dramatically. He said the focus of trade will change in near future as the demand of China for bulk commodities has declined.
On the trading flows, Froman saw real opportunities to expand U.S. exports to China across the border by removing tariffs on manufactured products. He had strategic dialogues with Chinese counterparts in agricultural goods that will help boost agricultural trade between the two biggest economies on the planet. The U.S. has a good reputation in global service industry and will have more cooperation and service trade with China in the future, Froman said.
"We will use every opportunity to address these issues through dialogues, greater interactions between our leaders. Later this week, President Xi Jinping will visit Washington and we'll have an opportunity to discuss many positions. This is an important moment for China-U.S. relations, but even more important moment for China's economic transition," said Froman.
Froman said overinvestment in property and heavy industry created overcapacity and market volatility, making China's current model unsustainable for next three decades before China accelerates transitions from investment-led to consumer-let growth. The U.S. has encouraging China to accelerate market-based reforms and greater openness to trade and investments, he added.
Actually the bilateral trade has increased steadily as a small and medium-sized enterprises made their contributions.
Bernard Bailey, Chairman and CEO of Authentix that only has 200 employees, said his company has operations and business in Shanghai by transferring more of their work to China.
"My company has grown rapidly in China and is tremendously welcomed by the Chinese government to boost bilateral trade," Bailey said. "And I hope the bilateral trade and investment agreement, if signed shortly, will boost the business of our company."