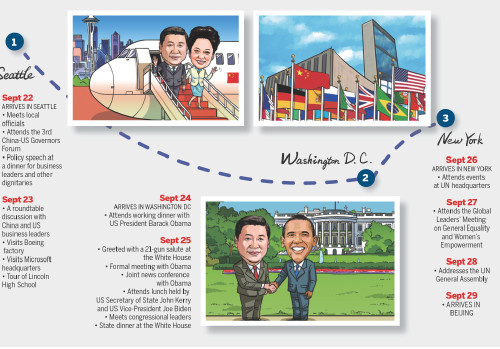 (CAI MENG/LI WEN/SONG CHEN/CHINA DAILY)
President Xi Jinping leaves Beijing on Tuesday for his first state visit to the United States, with negotiations between the two countries on many key sectors close to a successful outcome. [Special coverage]
The state visit, from Tuesday to Friday, takes Xi and first lady Peng Liyuan to Washington DC and to the U.S. high-tech hub of Seattle, where Xi will reach out to a wide range of U.S. society including business leaders, students and local officials.
He will also spend three days in New York City attending a series of summits at the United Nations headquarters marking the 70th anniversary of the founding of the global body.
Sources close to the arrangements said the two countries are likely to seal more than 40 agreements and deals, including a major one on climate change.
Xi will deliver a major policy speech at a dinner for business leaders and other dignitaries on Tuesday night, where many believe he will elaborate on Sino-U.S. ties.
Xi and Obama will have a small-scale working dinner in Washington DC on Thursday night before formal talks on Friday.
Jeffery A. Bader, former special assistant to the president of the United States for national security affairs, said: "(U.S. President Barack) Obama has developed a good personal relationship with Xi, having spent hours with him at Sunnylands (California), and more time with him on his visit to Beijing. So they have a good relationship already.
"I think it is important for the two presidents to make statements on their joint commitments to managing the economic relationship, jointly dealing with global economic turbulence, and working to stabilize and send a reassuring message to markets in both countries," Bader said.
Many observers believe Xi's visit will help push for earlier completion of the marathon talks on the Bilateral Investment Treaty.
Besides plans to visit Boeing's Paine Field in Everett, Washington state, Xi will also tour Microsoft's campus in Redmond, where he may attend the China-U.S. Internet Industry Forum hosted by Microsoft and the Internet Society of China. Guests include representatives from Baidu and Alibaba in China and from Apple, Facebook, Google and IBM in the U.S..
The New York Times reported at the weekend that the U.S. and China are negotiating what could become the first arms control accord for cyberspace.
This involves a commitment by each country that it will not be the first to use cyberweapons to cripple the other's critical infrastructure during peacetime.
The Chinese Foreign Ministry did not respond to the report.
Yuan Peng, vice-president of the China Institutes of Contemporary International Relations, noted the economic challenges the two countries face amid a sluggish recovery in the global economy.
"The world is expecting the leaders of the two largest economies ... to shape a 'win-win' landscape of mutual benefit," Yuan said.
David Lampton, a China expert at Johns Hopkins University, said, "I think one of the things that we can most importantly do is to show the progress that we have made.
"One of the biggest positive signs in the U.S. is rapidly increasing Chinese investment, much of it going to areas of the U.S. that are not wealthy," Lampton said.
He referred to Chinese enterprises' contributions to employment, including a Chinese auto glass manufacturer hiring 500 people in Alabama.
Xi will also visit a high school in Tacoma, sister city to the Chinese port of Fuzhou, Fujian province, where he served as city leader and signed the sister-city agreement in 1994, according to The News Tribune newspaper in Tacoma.