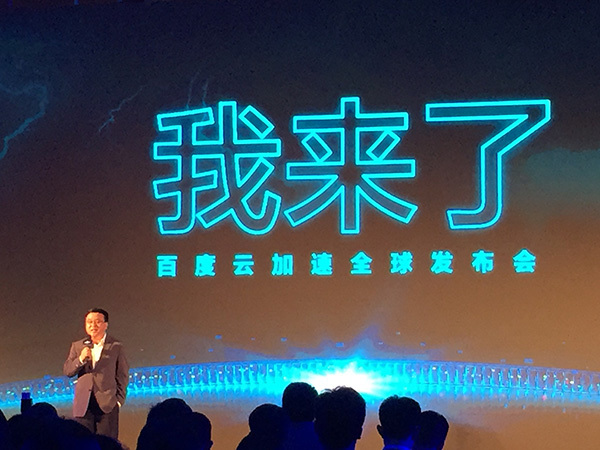 Baidu Inc's president Zhang Yaqin speaks at the global launch event of the Cloud Acceleration 3.0, the company's latest cloud security service, in Beijing on Sept 17, 2015. (Photo: He Yini/chinadaily.com.cn)
Chinese tech giant Baidu Inc announced on Thursday that it will update its cloud acceleration service in a bid to speed up the country's cross-border webpage visits and buffer with a more secure cloud security ecosystem.
The Cloud Acceleration 3.0, the latest service in the Baidu cloud security system, makes foreign sites more easily accessible in China and protects websites from security violations like malware and distributed denial of service (DDoS) attacks.
"Web security has become increasingly important because of the crucial role the Internet plays, especially in the burgeoning Internet of Things, in this globalized world," said Baidu's president Zhang Yaqin at the product's global launch event held in Beijing.
"It requires us to move faster and smarter to build a wider and more connected security network," he said. "Technological innovation is the key."
Baidu has been taking the initiative with its partners to develop a more inclusive cloud security ecosystem in the past few years.
The web behemoth confirmed just a few days ago to have joined US start-up CloudFlare, a content delivery network (CDN) provider, to develop a better and safer Internet.
The partnership uses a mixture of CloudFlare's web traffic technology and Baidu's network of data centers in the country, enabling Chinese and international businesses to grow their global online presence.
Earlier this year, the company wholly acquired online security startup Anquanbao, a cloud-based software program in China, to underpin and speed up its Baidu Cloud services.
Things will get easier through cooperation because Baidu alone is unlikely to excel in all areas of the cloud security ecosystem, said Ma Jie who heads up Baidu's cloud security unit.
The company is now estimated to own roughly one-third of Chinese enterprises' web security market, as reported by the New York Times.