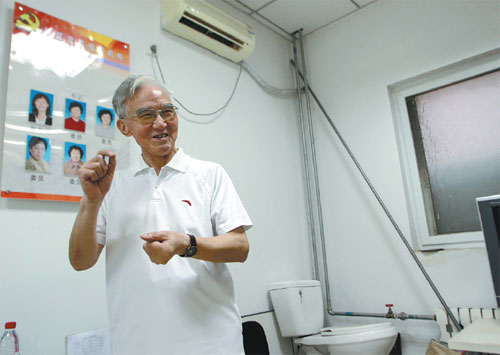 Jin Jiugao talks to visitors at his studio in Beijing's Wangjing area in July. He keeps a toilet there to explain to visitors how his water-saving device could be installed for toilets. Photos by Guan Xin / China Daily
Jin Jiugao, a retired engineer with more than 40 years' experience of working in communication technology industries, has embarked on a new career, inventing water-saving devices for toilets.
With no previous knowledge of such matters, he is self-taught and even spent 4,000 yuan ($645) on buying toilets to carry out research at his apartment in Beijing's Chaoyang district.
After hundreds of trials, he finally came up with the water-saving device.
Jin says that by using the small plastic device, an average family of three will be able to save about 70 metric tons of water annually.
"The major advantages lie in low-cost and one-step installation," he said. "They only cost 15 yuan each - much cheaper than buying a new water-saving toilet.
"The washing effect remains the same as before the device is installed, and yet 80 percent of water can be saved each time," he said.
Asked how his interest had changed from engineering to water saving, Jin said it had not been a transition, but a longtime fascination with water starting from a very young age.
Born and raised in Nantong, East China's Jiangsu province, Jin was impressed by a saying in the classic Chinese text Tao Te Ching that he learned at a private school.
According to the text, the greatest good is like water.
"That's where my initial motivation came from - water has such a high status in ancient Chinese classic writing, and it deserves to be treasured in daily life," he said.
Even though he knew he could profit from marketing his invention, he turned down requests from the manager of one company who offered him a large sum of money to buy the device.
Instead of cooperating with companies, he opted to install the device for households free of charge, although they have to purchase it first.
More than 6,000 families in Chaoyang are using his invention in their homes, Beijing Times reported.
While expecting to promote his invention to more families, he has also moved on to a new project involving a household wastewater recycling system.
"Many people do not know how small steps can be effective in protecting water resources, but it is a really worthwhile cause that deserves more attention and efforts," Jin said.