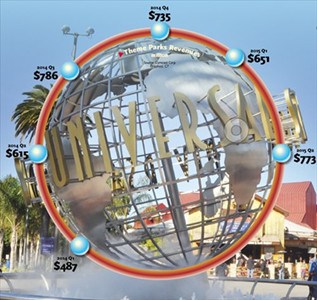 Move reflects changing demand for entertainment in China
A contract has been signed in New York to build a Universal Studios theme park in the eastern Beijing suburban district of Tongzhou, media reported Monday.
The project will spur the district's industrial upgrading and provide experience for domestic theme park developers, experts noted on Monday.
Universal Studios, a media and entertainment unit of U.S.-based Comcast Corp, announced at the signing ceremony on Sunday that the theme park is scheduled to open in 2019, news portal China.org.cn reported on Monday.
The park, which will have 2.02 million square meters of floor space, will cost 50 billion yuan ($7.9 billion), the Beijing Youth Daily reported on Monday, adding that the facility will be Universal's largest theme park so far. Universal Studios has built five theme parks, including two in Asia.
Universal Studios did not respond to requests for an interview from the Global Times as of press time.
Yan Haixiao, an entertainment industry analyst, told the Global Times Monday that derivative products such as theme parks can generate broad economic benefits for entertainment companies, especially those with a long history and many time-tested works.
Comcast's financial report shows that the revenues of its theme parks reached $773 million in the second quarter of 2015, up 25.7 percent year-on-year.
For the six months ended June 30, 2015, revenue from the company's theme parks segment increased 29.2 percent to $1.4 billion compared to $1.1 billion in 2014. And operating cash flow increased 48.9 percent to $617 million compared to $414 million in the first six months of 2014, which reflected higher guest attendance and per capita spending, according to the company's website.
Domestic players are also increasingly active in the segment. According to a report by domestic portal chinanews.com, Wanda Group, China's biggest real estate company and the world's largest cinema chain, announced on August 12 that it was planning to build 200 theme parks for children by 2020.
Yan said that Huayi Brothers Media Corp, one of China's largest entertainment companies, had also planned to open theme parks, but the idea was abandoned for unknown reasons.
"Many Chinese entertainment companies still lack the resources and experience to develop their derivative products, but I think the time will come, maybe in five or 10 years," Yan said.
Yang Yong, a professor at thebusiness school of the East China Normal University, told the Global Times on Monday that the construction of overseas theme parks in China demonstrates that the domestic demand for travel and entertainment has become increasingly diversified.
"Nowadays, tourists are no longer satisfied with traditional attractions. Theme parks give them something fresh to see and experience," Yang said.
Yang also noted that the theme park would help industrial upgrading in Tongzhou, as it would push the development of many local industries, such as catering, animation and infrastructure construction.
According to the Beijing Youth Daily, the government plans to extend the eastern end of the Beijing Metro Line 7 to provide better access to the park. The project is scheduled to start in 2015 and finish before 2019, when the theme park is set to open.
Universal Studios is not the only overseas player in China's theme park industry. Shanghai Disneyland, the first park opened by the Walt Disney Co on the Chinese mainland, is scheduled to open in the city's Pudong district in early 2016, the Securities Daily reported on September 8. Also, U.S. entertainment company DreamWorks Animation SKG Inc and its Chinese partners announced plans for a Shanghai-based entertainment complex in August 2012.
Yang said that there won't be much competition between the Universal theme park in Beijing and Shanghai Disneyland, as they have "totally different themes".
Liu Xia, a resident of Tongzhou, said she couldn't wait to see the Universal theme park open. "I think it will be the most interesting tourism site for my 1-year-old son. The location is very convenient, too," Liu told the Global Times on Monday.