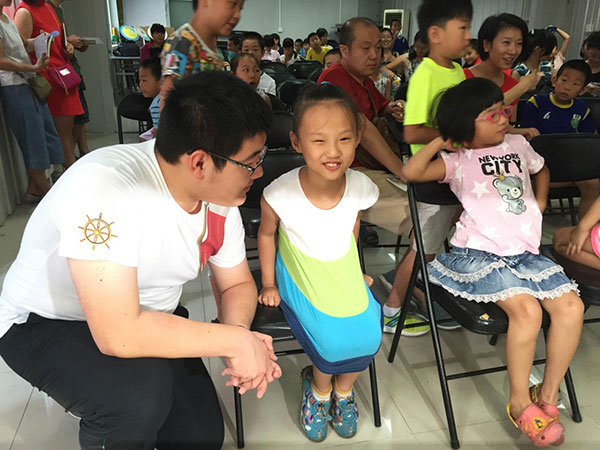 Volunteer Pan Qiushi shares safety tips with children. (Photo provided to chinadaily.com.cn)
"All kinds of sexual assault of children reported from time to time cause me great anxiety and I worry about my daughter greatly. But honestly, I have no idea how to talk about this with her. Her interactive performance, I have to say, in today's safety class calmed my nerves and such activity is the right way to protect them against sexual assault," a parent from Youth Lake community, Dongcheng District, Beijing, said after participating in Yili Ark sex education training for children.
School season is a golden opportunity to help parents and children enhance safety awareness of children. Recently, Yili Ark of Beijing Youth Lake Community together with children safety education experts and volunteers organized a sex education training activity for children to raise awareness about sexual assault.
The event held scenario simulation and parent-child interaction to get the message across. Under the guidance of volunteers, more than 100 parents and children attended the event.
A volunteer wearing Yili Ark T-shirt hosting the activity was the busiest one. He played "tall and short" warm-up game with children, which is designed to practice their "rapid response" capabilities; played a malicious man in scenario link set through courseware; played as a "stranger" who tried to cheat children with a mobile phone on hand, and other roles.
According to staff, the volunteer, whose name is Pan Qiushi, has been involved with Yili Ark Children Safety Charity Activity for more than two years and was the first one to apply when Yili Ark Program started.
As one born in 90s, he is not only warmhearted, but also quite innovative. He is very popular with the project team, colleagues and children. In the past two years, Pan Qiushi has been actively involved in Yili Ark public charity action, and has put forward a lot of good ideas.
In 2013, he came up with "Safety First and Dream Second" plan to convey the idea to parents and children through the power of music, which later became the source of theme song "World for Me".
In early 2014, he proposed to add kinship-emphasized activity named "A big hand takes a small hand" to children safety knowledge popularity process; inspired by the paper cutting class of Bilahe Forest Elementary School, he advised the project team to combine children safety knowledge training with local features.
As a result, "Children safety knowledge via paper-cutting" came into being. It is reported that more than 30 volunteers like Pan Qiushi have joined Yili Ark Program, including college students, white-collar workers, NGO representatives and people dedicated to public benefits. Pan Qiushi is the earliest and youngest one of them.
Pan Qiushi told the reporter after event that after living in the United States he understood the importance of safety education for children. He, as a student, can act as a volunteer only during holidays and after school. He is dedicated to helping more children and parents improve children's safety awareness and guide them together via the combination of his experiences and Yili Ark Public Charity Action.
According to Pan Qiushi, involvement in Yili Ark Program in the last two years has helped him channel his care and love through public charity action, and it is really a "very happy" feeling. He feels that public charity requires more innovation than adherence and that constant innovation will render public service more vitality.