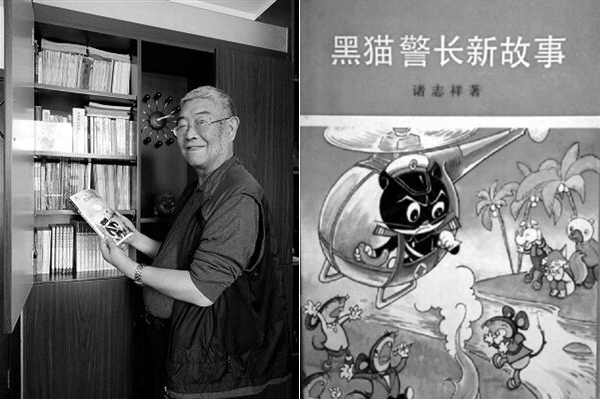 Zhu Zhixiang and his book (File photo)
The children's book author Zhu Zhixiang, whose most famous works include "Black Cat Police Chief," died on Wednesday in Shanghai. He was 74.
Zhu's "Black Cat Police Chief," which was later adapted into a TV animation series "Black Cat Detective" in the 1980s, has been a mainstay of childhood memories for two generations.
The writer, born in Shanghai and having lived there, started to publish his works in 1968. The Fujian People's Publishing House published "Black Cat Police Chief" in 1982 and sold 9 million copies. His best children stories also include "Ba Jie Back to Hometown," "Ox with Ties," "Monkey Doctor Treats Illness" and "Black Cat Police Chief and Aliens" among others. He was awarded China's very first National Outstanding Children's Literature Award for "Black Cat Police Chief."
Its Television adaptation, the "Black Cat Detective" series, was made by the Shanghai Animation Film Studio and originally aired from 1984 to 1987, becoming a popular household name. In 2015, another feature based on the story was made and entitled "Mr. Black: Green Star."
Zhu Zhixiang previously said he once envisioned the much loved animal police officer in his stories as a giant panda or a tiger, but he felt that pandas were too clumsy and tigers were not smart enough. So, he eventually settled on the cat.
However, due to the limits of the time and the lack of copyright protection laws, many publishing houses never paid him and exploited the Black Cat Police Chief stories. Zhu spent more than 20 years suing those publishing houses.
He even sued the "Black Cat Detective" TV series director Dai Tielang for infringing his copyrights and credit rights to the stories. Under court mediation, the two shook hands and Dai compensated Zhu.
Zhu also told the media last year that he wrote more than 100 stories based on the "Black Cat Police Chief," and the total number of words he wrote is more than 300,000. However, the rest of the stories have not had a chance to make it to screen.
The good news, however, is that famous Chinese director Lu Chuan is preparing to shoot a live action film adaptation of the "Black Cat Police Chief" after he bought the copyrights and adaptation rights from Zhu.
"He was an especially nice old man," Lu said to the Beijing Times, "We had made a deal to get together after I finished my business, but he was suddenly gone. I felt so sad. I hope everyone pays attention to his life story and cares about his family because he brought tremendous joy to our collective childhood."
Lu said the special effects filled live action version of "Black Cat Police Chief" was Zhu's biggest wish and Lu is working on the script now. "He was cautious and careful and never gave the copyrights to anyone. But he trusted me and finally assigned it to me. I hope the film will exceed audiences' expectations. I have 7 to 8 partners working together to finish the script. They are all crazy fans of the Black Cat Police Chief, and they are watching many superhero films to find inspiration. We hope to make it a Chinese superhero film."
"Thank you for trusting me to direct the live film adaptation of Black Cat Police Chief," Lu wrote on his microblog, "The iconic image of the Black Cat Police Chief you left behind will live forever."