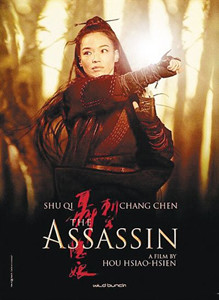 Taiwan director Hou Hsiao-hsien's critically applauded "The Assassin" is in the race for "The Best Foreign Language Film" Oscar to be awarded early next year.
"The Assassin," starring Shu Qi, Chang Chen, Zhou Yun and Satoshi Tsumabuki, won Hou the award for Best Director when it premiered in the main competition section at the 2015 Cannes Film Festival.
The Motion Picture and Drama Association of Taiwan announced on Wednesday that "The Assassin" was selected as the Taiwan entry for the Best Foreign Language Film at the 88th Academy Awards.The selection committee said:"The filmmaking technology level reaches a high level of professional proficiency, and it shows the natural personalities of human nature in classical atmosphere".
The committee also said Hou's filmmaking techniques were always consistent while he had a great ambition and created a new film language style.
China's critics praised the film's artistry. However, the opinions have been severely split between critics and common audiences after it debuted on the Chinese mainland at end of August as critics rated it "outstanding" and "groundbreaking" while average moviegoers called it "dull" and "slow" -- many slept through the screenings.
The result is a lukewarm box office performance. Though it cost nearly 100 million yuan to make and the Chinese film market has become the second biggest in the world, the art-house film only grossed 59 million yuan (US$9.25 million) by Wednesday. In Taiwan it grossed 14.76 million New Taiwan Dollar (US$453,100) in its two weeks.
But Hou Hsiao-Hsien previously said he only cared about how to make a film able to represent his art vision without paying too much attention to other things.
Meanwhile, it was previously reported that China planned to submit the Sino-French co-production "Wolf Totem" for the Academy Awards for Best Foreign Language Film. Both the director Jean-Jacques Annaud and its Chinese producer Wang Weimin have verified the news.
The film, based on the semi-autobiographical novel by Jiang Rong, was screened in China in February and grossed US$110.5 million. It is set to be released in the US on Sept. 11.
The official announcement of China's submission is expected to be made around Oct. 1.
"Wolf Totem" is also eyeing the awards for Best Picture, Best Director as well as the Best Original Score -- since the film score was the last composition by the late James Honor, the music legend who died in June this year.
Japan has submitted Masaharu Take's sports drama "100 Yen Love" as its candidate, while the historical drama film Lee Joon-ik's "The Throne" was selected as the South Korean entry.