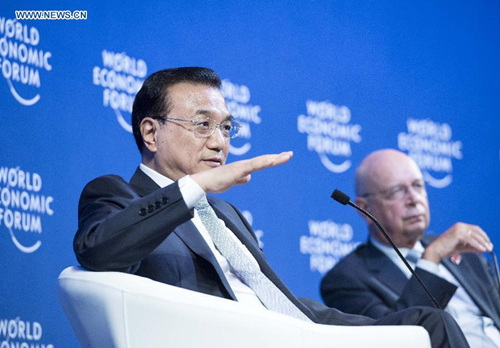 Chinese Premier Li Keqiang (L) exchanges views with Klaus Schwab, founder and executive chairman of the World Economic Forum (WEF) and other participants at the World Economic Forum (WEF) in Dalian, northeast China's Liaoning Province, Sept. 9, 2015. The three-day meeting will last from Sept. 9 to 11.(Photo: Xinhua/Wang Ye)
Premier Li Keqiang said on Wednesday that China has been unjustifiably blamed for triggering global volatility and the country's economy is on track with systemic risks at bay.
The Chinese economy is growing at a proper rate, government debt risks are controllable and the yuan will not experience a prolonged depreciation, the premier said as he met with business leaders at the annual meeting of the New Champions, also known as the Summer Davos Forum, in northeast China's port city of Dalian.[Special coverage]
CHINA NOT TO BLAME
China has been wrongly criticized for causing currency wars as the recent RMB depreciation was blamed for setting off chain reactions in the global market, Li said.
"It's like you are shot by a bullet even though you have assumed a prostrate position," Li said, using a faddish Chinese quip.
China has no intention of boosting exports through the depreciation of yuan and is unwilling to see a currency war, as it will just work against China, Li said.
Using a weaker yuan to boost exports is also not in line with China's ongoing structural readjustment, the premier said.
"There is no basis for continued depreciation of the Chinese yuan, given China's ample foreign exchange reserve and its economy is growing within a proper range."
SYSTEMIC RISKS AT BAY
China has fended off potential systemic financial risks during the recent market gyrations with timely interventions.
Authorities have prevented the spread of financial risks and stabilized the stock market during unusual fluctuations in June and July, Li said.
The measures are normal practice in global markets and do not mean the government is trying to replace or weaken the role of the market, Li said.
China vowed to let the market play a decisive role in resource allocation in a key policy meeting in late 2013.
China will continue to develop a multi-layered capital market and make it open, transparent and stable based on market forces and the rule of law.