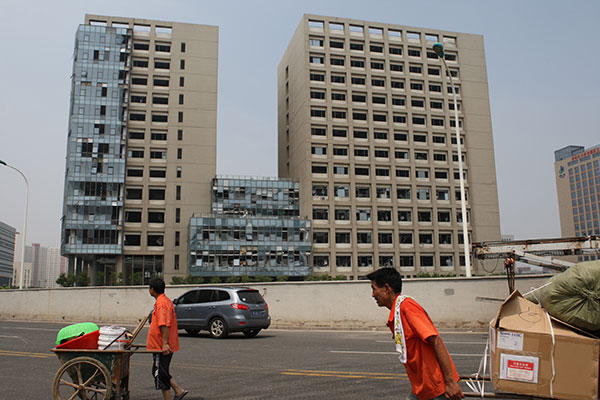 The windows of buildings two kilometers from the Tianjin blast site were severely damaged, raising questions about the use of safety glass. (Photo/China Daily)
Government in Tianjin's Binhai New Area said the repurchase price for the damaged houses in Tianjin blasts on Aug 12 will be 1.3 times of the house price, reported Beijing Times on Tuesday. [Special coverage]
The repurchase price will be 1.3 times the higher price of the market price before the blast on Aug 11 or the price at which residents bought their homes.
Previous reports by Xinhua News Agency said that residents can sell their homes to an alliance of property developers or have the government renovate them free of charge.
Xinhua also said several State-owned property developers in the northern Chinese port city hit by the massive blasts said that they had formed the alliance to buy homes from willing owners. The group includes property giant Vanke, the builder of one of the worst-hit block.
Government will restore the windows, doors and public areas free of charge and offer financial compensations to home owners who prefer compensation instead of selling their property. The compensation will be 16 percent of the house price, which will be based on previous market price or the price residents bought it.
An independent third-party agency will be assigned to determine the market price of these homes before the blast and the value of damaged goods at these apartments at the consent from both the homeowner and the housing administration.
The death toll from the blasts stands at 162.