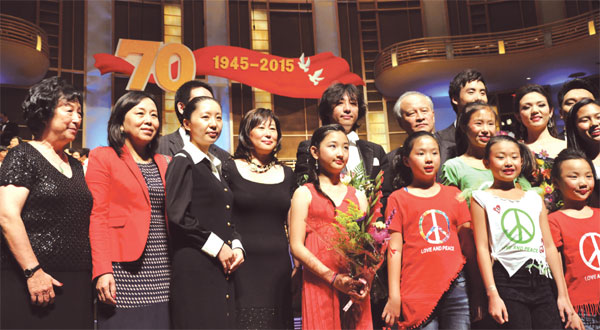 Cui Tiankai (sixth from right), Chinese ambassador to the U.S., and Wu Xi (fourth from left), deputy chief of mission at the Chinese Embassy in Washington, meet the organizers and artists of Never Forgotten, in Bethesda, Maryland, on Sept 5. (Dong Leshuo / China Daily)
China's ambassador to U.S. hints at 'pleasant surprise'
Chinese Ambassador to the United States Cui Tiankai believes the upcoming state visit to the U.S. by President Xi Jinping will be a success.
He revealed that preparations for the visit are rapidly under way. "I am sure that President Xi's visit will produce fruitful results," he told reporters on Sept 5 after a concert in Maryland to mark the 70th anniversary of victory in the Chinese People's War of Resistance against Japanese Aggression.
While Cui did not reveal what the fruitful outcomes will be, he said it will be "a pleasant surprise when made public".
U.S. National Security Advisor Susan Rice was in China a week ago to prepare for Xi's visit, and U.S. Assistant Secretary for East Asian and Pacific Affairs Daniel Russel will travel to Beijing from Sep 6-8 to discuss a host of issues relating to the visit.
Asked if there would be a change in the timetable for Xi's visit if the U.S. government announces in the coming weeks its economic sanctions on Chinese companies and individuals involved in the alleged cyber thefts as reported by The Washington Post lately, Cui said he hopes nobody will do anything so non-constructive.
The ambassador believes that the vast common interests between the two countries means that both sides need to make Xi's visit a success.
He said both nations are facing the challenge of cyberattacks. And China, as a developing nation, is much more a victim of cyberattacks.
"This means that China and the U.S. have every reason to conduct more communications and cooperation in this regard, instead of moving towards conflict and confrontation," he said. "I hope the U.S. side will make a smart choice."
He said the two countries have been communicating on various bilateral, regional and global issues. But different national conditions mean that there will be differences and disagreements.
He described it as normal for the two countries, but said it also means that when old problems are solved, new problems might emerge.
Cui, who was a vice-foreign minister before assuming his current post in April 2013, noted that the two countries also have expanding common needs and interests. "Our common interests clearly outweigh our differences," he said.
To the career diplomat, the key is for the two sides to better explore their common needs and interests and to expand cooperation, while constructively managing and controlling their differences.
"Only by doing this can China-U.S. relations be kept on a healthy, stable and sustainable path," he said.
While U.S. news headlines often suggest otherwise, Cui reminded people of the two nations' vast common interests, from two-way trade totaling $550 billion, increasing two-way investment and people-to-people exchange highlighted by the large number of Chinese students studying in the U.S. and the growing number of American students in China.
"So I believe the two countries' common interests have increased on global and regional issues, in particular bilateral issues, and our common interests far exceed differences," he said.
Dismissing the notion that China was showing its muscle in the military parade in Beijing on Sept 3, Cui said China has been a staunch force in ensuring world peace.
"So the more powerful China is, the greater its contribution to world peace," said Cui.
He described this as the message from the parade. "It is not to show muscle or intimidate anyone," he said.
On the other hand, the U.S. does not need to demonstrate with a military parade; it has been using its weapons every day, according to the ambassador.
China has not been engaged in a war with another country in the past four decades, except a brief border conflict with Vietnam in 1979.
The U.S. has been described by political scientist Andrew Bacevich as on path to permanent wars, with the wars in Iraq and Afghanistan being the latest reminder, along with the ongoing drone strikes in countries from the Middle East to North Africa.